Most of the time my menus are planned around the weather. Chilly, rainy Spring days call for a warm and comforting dinner.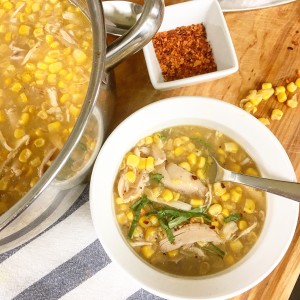 The days activities determine the intricacy and time commitment of the prep. There is nothing wrong with taking a few shortcuts, like buying a rotisserie chicken, for example. Hey, we are cooking at home, the number one step towards a healthier lifestyle. It is possible to cook delicious meals for the family. It is impossible to add time to our day.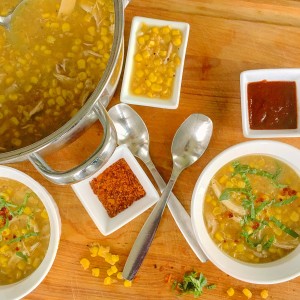 Sweet corn has just started popping up in my local grocery stores- really early I know, but I have ben totally in the mood, especially after the 78 degree summer teaser days we have had recently. Many of my favorite dishes require fresh frozen or sweet corn cut off the cob. I am a huge salty sweet fan, so anytime corn is roasted with garlic, butter, and salty spices, I cannot get enough. My latest find is a dry sriracha seasoning. I've been sprinkling it on everything!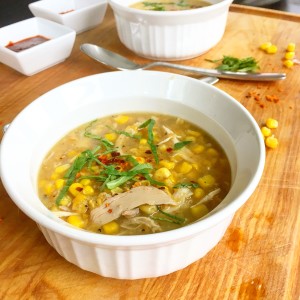 A corn chowder is a perfect example of this mix of flavors. Comforting, with just enough kick to be different, this recipe is a family favorite and my kid's eat seconds!
Here is the recipe…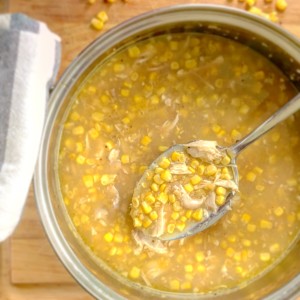 Corn & Chicken Chowder
Ingredients:
2 tbsp. butter
1 small onion, chopped
3 cloves garlic, finely chopped
2 tbsp. flour
1-1/2 lbs. chicken breast, roasted (or rotisserie chicken breast shredded)
6 cups chicken stock
1 cup heavy cream
2 – 10 oz. bag frozen corn or 6 ears of corn cut off the cob
1 14 oz. can cream style corn
salt/pepper to taste
chopped green onions /parsley for garnish
Optional- 3 tbsp. sriracha, dried sriracha, cayenne pepper to taste
Directions:
Melt butter in a soup pot.
Add onions and cook until softened.
Add garlic and cook for another 30 seconds.
Stir in flour until thickens.
Whisk in chicken stock bring to a boil and simmer 15-20 minutes.
Add chicken and corn and cook low to medium heat 10 minutes.
Ladle into bowls and top with garnish.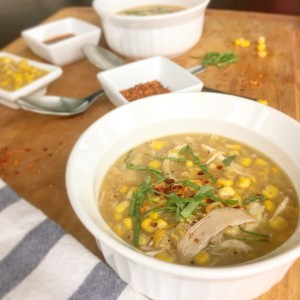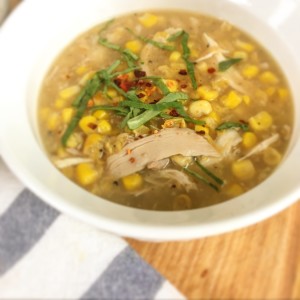 Enjoy!
Ciao!