Hard boiled egg perfection.  It can totally happen. The process requires us to filter out the bad habits and shortcuts we have collected over the years.  Most of us will hard boil eggs to color for Easter, unless we happen to stubble upon lovely, already pastel-ed eggs.  Good luck!  Blue eggs are really just that, a regular egg with a beautiful, light blue shell. Most are laid by the Araucana, also known as an Easter Egg chicken. Nope, unfortunately they are not blue and don't sport cute bunny ears.  No problem, we will make our own. So cool though, right?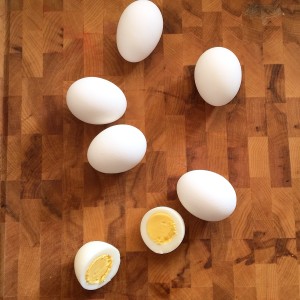 Here are the 5 , ok 6, most important hard boiled egg tips:
Don't use fresh eggs.  Seems counterintuitive, I know, but older eggs have a weaker hold on the shell, making them easier to peel.  We will add salt, too. Just in case.
Don't crowd the eggs in the pot.  Overcrowding a pan or a pot in any cooking situation is never a good thing.  Give the eggs some room to absorb heat slowly and evenly.
Cover with COLD water. You might think adding hot water is speeding up the time-to-boil, but thats not what we want!  Start with cold water and inch or two above the tops of the eggs.
Turn off the heat when the eggs start boiling.  But don't jump the gun.  Let the rapid boil begin before killing the heat.  The start of tiny bubbles is just the beginning, wait until things get crazy.
Cover for 10 minutes. 10 is my lucky number for the perfect hard boil.  Depending on pan temperature and surface area this could vary.  Experiment and max out at 15 to avoid overcooked yolks.
Treat the eggs to a nice cold ice bath. We want to stop the cooking and make a last attempt at easy peeling.
Now that we know why we are doing what we are doing, Here is the recipe…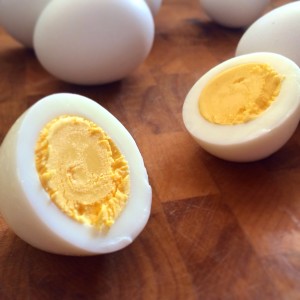 Hard Boiled Eggs:
Ingredients:
6 eggs, not super fresh
dash of salt
water, to cover eggs
ice
Directions:
Cover eggs with water until 1 inch above tops of eggs.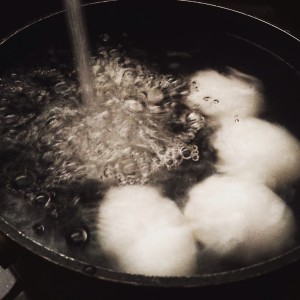 Add salt.
On high heat, bring to a boil.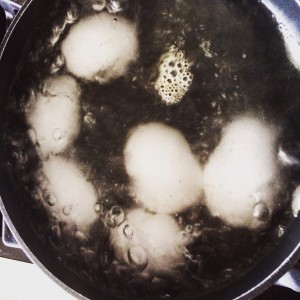 Turn off heat and Cover for 10 mins.
Transfer eggs to an ice bath.
Dry with a towel, color, or peel and eat.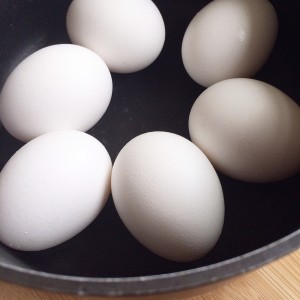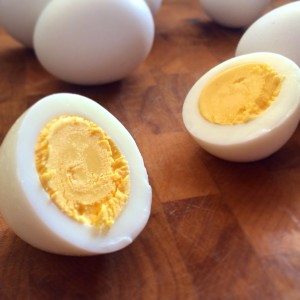 Enjoy!
Ciao!