Do you have zucchini coming out of your ears? I definitely do! It is that time of year when I have had enough- totally zucchini breads, zucchini boats, and zucchini breakfast-ed out! What else can you make? There is always the chocolate-zucchini craze of hiding the veggie in chocolate cake, muffins, cookies or brownies. Chocolate is always a great idea, but how about a salad sans lettuce and a smooth and summery homemade vinaigrette? Now that sounds perfectly summer!
Summer Zucchini Salad
(Serves 4)
Ingredients:
2 medium zucchini
2 vine ripe tomatoes
1/2 cup crumbled goat cheese
1 lemon
salt/peper to taste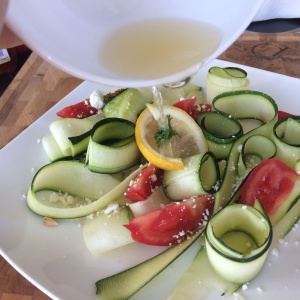 Honey Lemon Vinaigrette
Ingredients:
1 tsp. garlic powder
1 tsp. dijon mustard
6 lemons- squeezed for juice approx. 1/4 cup lemon juice
2 tbsp. honey
1/2 cup olive oil
1/4 cup grapeseed oil or canola oil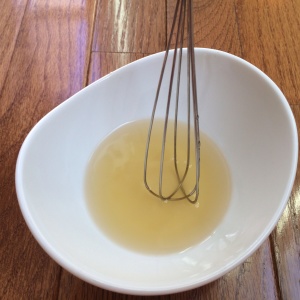 Directions:
Peel zucchini with a vegetable peeler in long strips and place into serving bowl or platter.(I roll-up some of the strips for easy eating and because it adds to the beauty of the dish.)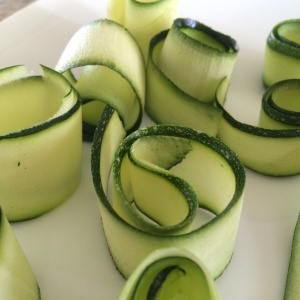 Cut tomatoes into wedges and add to the salad.
Sprinkle with 2-3 tbsp. crumbled goat cheese.
For dressing:
Whisk all ingredients except oils.
Add oils, lid, and shake vigorously until well mixed.
Top salads with 2 tbsp. of dressing and squeeze a halved lemon over salads.
Add salt and pepper to taste.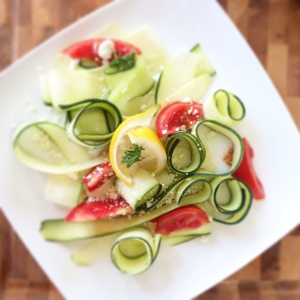 Enjoy!
Ciao!