Perfect as an appetizer or dinner, these bun-less meatball sliders bring together the flavors of meatballs in sauce topped with fresh grated parmesan cheese without the tradition. Ripe tomatoes, fresh basil, and a parmesan crisp create a clean and colorful stack of deliciousness.
Seriously, who needs the bun? And, seriously, who can live in this world without parmesan crisps? Parmesan crisps take 5 minutes to make and, like a great pair of earrings, they dress up everything!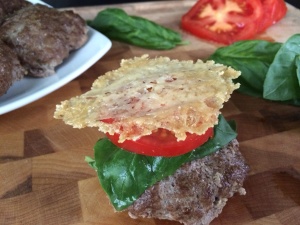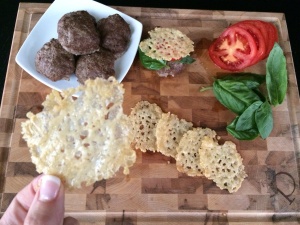 Bun-less Meatball Sliders
Makes 6-8- 3 inch sliders
Ingredients:
1 lb. lean ground beef
1 egg
2 tbsp. basil, chopped
1/4 cup parmesan cheese
4 cloves garlic,finely chopped
1/4 cup breadcrumbs
Directions:
Add all ingredients and mix well by hand.
Form into 3 inch balls and flatten slightly so that the top plateaus.
Place on a foil covered pan 2 inches apart.
Bake 350 degrees for 8-12 minutes until desired doneness, flipping half way.
Toppings:
Whole Basil Leaves
Ripe Tomatoes, sliced
Parmesan Crisps-
Spoon 1-2 tbsp. parmesan cheese in piles approx. 2 inches apart on a parchment paper lined pan.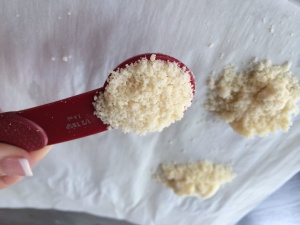 Bake 4-5 mins. until golden- just starting to brown.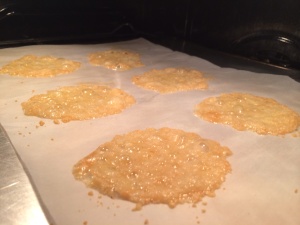 Let cool.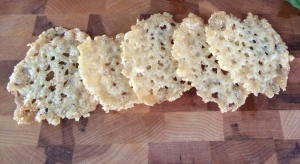 Peel crisp from paper.
Build bun-less meatball sliders by topping the meat patty with one slice of tomato, a few basil leaves, and a parmesan crisp on top!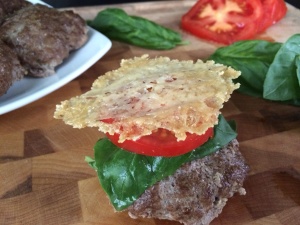 Serve and Enjoy!!
Ciao!