Pittsburgh's 9th Annual Farm to Table Conference is right around the corner. This year it is being held on March 27th and 28th at the David Lawrence Convention Center. The two day event will feature speakers, demos, local farmers, kids activities, and a taste of local food!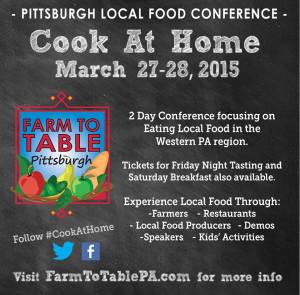 Spend your Friday Happy Hour at the Friday Night Tasting! Stop in for Breakfast Saturday! There are many ticketing options to meet your needs!
Enter the ticket giveaway HERE!!
a Rafflecopter giveaway

This year's theme is "Cook At Home," the first step in your family's health and wellness journey!
Here is an easy and delicious recipe I prepared at Farm to Table Pittsburgh's For The Love Of Pittsburgh event in February!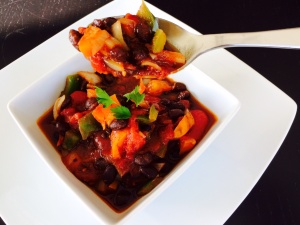 Vegan Mexican Beer Chili
(serves 6-8)
Ingredients:
2 tbsp. Olive Oil
3 cloves garlic, finely chopped
2 medium onions, chopped
1 12oz. bottle of your favorite Mexican beer or something lime, jalapeño, chipotle flavored
2 bell peppers, chopped
2 jars Clarion Farm Organics jar tomatoes- 1 32 oz.can of diced or crushed tomatoes
1 16oz. bag black beans, cleaned and soaked until plump, or 2-15 oz. cans of you favorite beans, rinsed.
1/3 cup chili powder
2 tbsp. cayenne pepper
1 tbsp. cumin
3 squeezes of Sriracha
Salt/pepper to taste
Directions:
Warm olive oil in a large, deep pan.
Add garlic and cook until golden.
Add onion, bell pepper, and beer.
Cook until vegetables soften, but are still crisp.
Add tomatoes and seasonings.
Cook 15-20 more minutes until bubbly.
Add beans and heat through.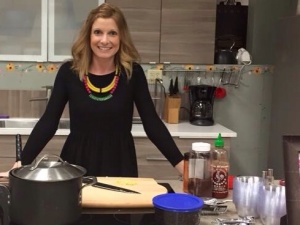 Top with scallions, diced onions, a scoop of fresh guacamole, and/or your favorite Mexican toppings!
Ciao!
Farm to Table Pittsburgh will email the tickets to the winner directly! Thank you for entering and supporting Farm to Table, Cook At Home, and Shop Local, Pittsburgh!!