Artichokes, when they are in season, are one of my favorite "vegetables" to prepare. The artichoke is actually the flower's bud and is a great source of vitamins and minerals such as vitamin K, potassium, iron, and calcium!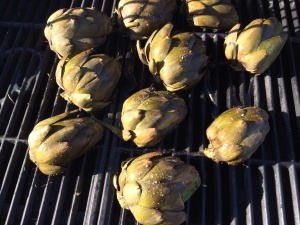 One of our traditonal Italian family recipes is to stuff the artichoke leaves with a breadcrumb butter mixture. To eat, pluck the leaves and pull through your teeth to get a meaty, buttery, breadcrumby bite! Yum!
Don't count out the great flavor of the artichoke hearts. Typically frozen or canned, artichoke hearts can be a pizza topping or a delicious casserole. Here is one of our favorites!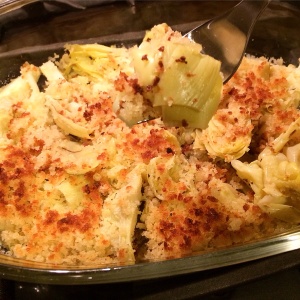 Parmesan Crusted Artichoke Hearts
(Serves 8-10 as a side dish)
Ingredients:
2 lbs. frozen artichoke hearts, thawed (OR 2 cans artichoke hearts, drained)
3 tbsp. olive oil
4 cloves of garlic, finely chopped
2 tbsp. fresh basil
1/4 tsp. Sriracha dry seasoning (or red pepper flakes)
Salt/Pepper to taste
1/2 cup parmesan cheese
1/3 cup chicken broth
Brown Butter Breadcrumbs
3 tbsp. butter
1/2 cup bread crumbs
Directions:
Heat olive oil in a large, deep frying pan, add garlic until softened and golden.
Add the artichoke hearts and cook until browned on edges.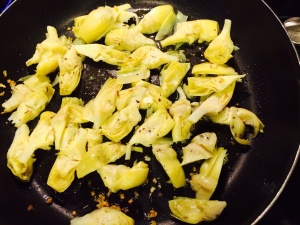 Add basil, dry seasoning, salt, and pepper.
Cook 3-5 minutes stirring to blend together.
Add chicken broth and simmer.
Meanwhile melt butter in a small saucepan.
Add breadcrumbs until golden brown.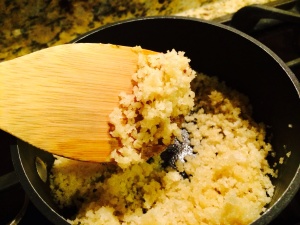 Transfer artichokes to a shallow baking dish and top with breadcrumbs and Parmesan cheese.
Broil on high on top rack until golden brown.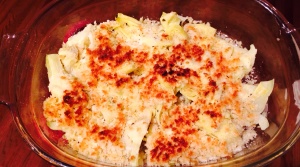 Enjoy!
Ciao!