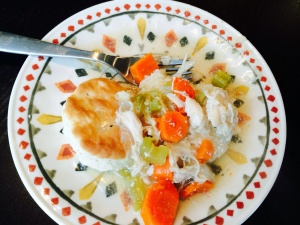 Daylight savings should be call fall back into a dark, cold tundra here in Pittsburgh.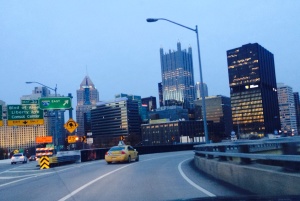 So what do we do? We eat comfort foods, fill our bellies, and hibernate on the couch until bed. Hearty chilis, stews, and pastas filled with pumpkin, squash, and potatoes hit our menus. The food is a welcomed change! The weather is totally not! The holidays will get us through!
Here is one of our favorite comfort food dinners:
Homestyle Chicken and Biscuits
Serves 12 (Lots of Leftovers!)
Ingredients:
1 32oz. Fat free sodium free chicken stock
3/4 cup flour
6 boneless skinless whole chicken breasts – cubed or whole for shredding
4 carrots, chopped
4 celery stalks, chopped
1 large onion, finely chopped
2 garlic cloves, pressed
1 tbsp. chopped parsley
1 tbsp. chopped rosemary
Salt/pepper to taste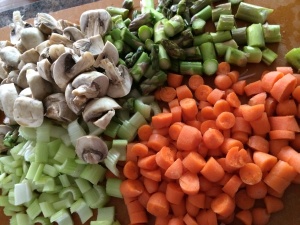 Directions:
Preheat oven to 350 degrees.
In a stock pot on medium -high heat combine garlic, chicken stock, carrot, celery, onion, and spices.
Stir every 10-15 minutes for a few minutes and don't be afraid to let it boil. It will help the thickening process of the flour.
Meanwhile, rub chicken breasts with olive oil and salt and pepper.
Bake chicken for 35-45 minutes or until juices run clear and a meat thermometer reads 165 degrees.
Let chicken stand and cool for 10 mins.
Dice chicken to desired size or shred with a fork.
Add to stockpot and stir.
Cook an additional 20 minutes.
(If the gravy is not as thick as you would like, temper some flour or cornstarch and water. Add the mixture to the pot while stirring. Let it cook to thicken.)
Serve over your favorite biscuits or waffles!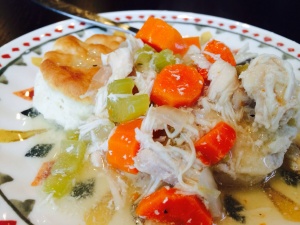 Diners, Drive- Ins and Dives has a fabulous biscuit recipe from The Counter Cafe in Austin, TX. If you are feeling adventurous here it is!
Enjoy!
Ciao!