A great dessert is an essential, and the best part, of Sunday dinners. You know, everyone falls asleep on the couch with full bellies of spaghetti and meatballs and wake up to round 2!! Ding, ding, ding! If you are my brothers, it means another round of spaghetti and meatballs. But, for everyone else, it is coffee and a decadent dessert! I made this one today!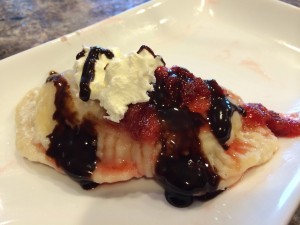 Dessert Ravioli With Ricotta Filling in a Strawberry Sauce
Ingredients:
Filling:
3 cups ricotta cheese
2 tsp. lemon juice
2 eggs beaten
1/4 cup sugar
1 tsp.vanilla extract
Strawberry Sauce:
4 cups fresh strawberries diced
1/2 cup rum
1/2 cup sugar
Dough:
31/2 cups all-purpose flour
3 large eggs
3/4 cup water
Directions:
Start with the filling:
Stir together the ingredients in a mixing bowl and refrigerate
The Strawberry Sauce:
Combine strawberries, rum and sugar in a saucepan on medium heat. Let cook 15- 20 minutes. It will bubble and simmer. Shut of heat and let it sit until ready!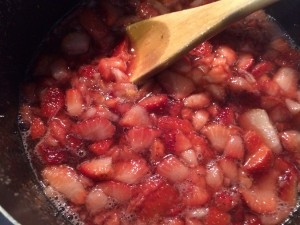 The dough:
In a mixing bowl combine the flour, eggs, and 3/4 cup of water. Gradually add the water until the mixture is forming a solid ball.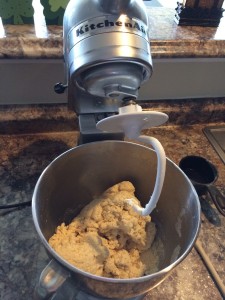 Powdered sugar rolling surface. Make 2 inch round balls and roll them in powdered sugar. With a rolling pin, roll out ball into a circle. Spoon filling onto circle. Close the ravioli by folding circle in half. Pressing dough edges together and securing with a fork press! Make sure they are closed all the way around!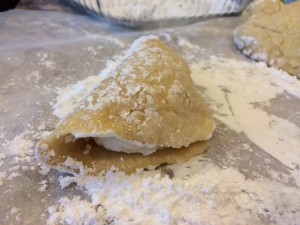 Drop no more than 4 ravioli at a time into a pot of boiling water. After they float back to the surface, allow them to cook another 4 minutes. Remove very gently with a slotted spoon and place on a cooling rack to drain and cool.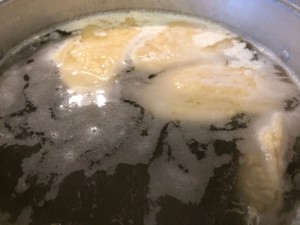 Serve the ravioli with a spoon of strawberry sauce, a drizzle of chocolate, a scoop of ice cream and don't forget a dollop of whipped cream!!!
Get creative!! My mind is racing- mascarpone cheese, Caramel sauce…Enjoy!
Ciao!