I am in love!!!! Mama got some new shoes! Finally, I'm learning!! Why do we go every Spring to Macy's sale and then TJMaxx and then DSW and buy 3 pair of flip flops on sale for $30-$40/ pair only to actually wear one pair ever on our feet all summer???? That's $90! Let me introduce you to the Tory Burch thin enamel flip flop in khaki…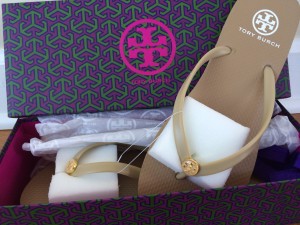 $50!! Get one pair now before Spring-in khaki! (They sell out fast!) You will love them! These flip flops compliment all of the current trends- maxi dresses, high lows, skinny jeans, spring summer sundresses, rompers…love, love, love. And you will, too!! OK, on to the cheese and totally delicious fontina white pizza recipe!
I am also obsessed with fontina cheese right now! It's meltability (is that a word?) is incredible! which is why I recently began experimenting with fontina on pizza!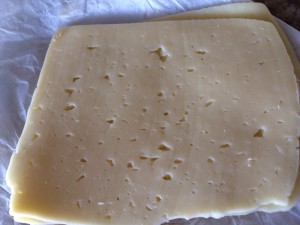 Use to make mouth watering grilled cheese, paninis, even shredded beef sandwiches!! Here is my favorite recipe so far!
Fontina Fabulous -White Pizza
Ingredients:
Uncooked 12″pizza shell-Yep I do! ; )
2 tbsp olive oil
1 clove garlic
2/3 cup of shredded fontina cheese
1/4 cup of shredded mozzarella
Salt/pepper/basil/ rosemary/or your favorite Italian seasoning
Directions:
Preheat oven with pizza stone @ 375 degrees
Press garlic and mix with olive oil
Brush shell with oil/garlic leaving 1/2inch on outside edge untouched
Add shredded fontina, mozzarella
Bake for 10-15 mins until golden brown and cheese melted!
Always top off with freshly grated Parmesan!! Enjoy!