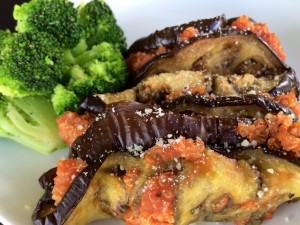 Quinoa is a superfood packed with nine amino acids making it a complete protein. Although this is common in meats, plants do not typically contain complete proteins. Quinoa comes most commonly in red, black and white. Quinoa has a nutty taste and the white cooks the fluffiest with a more rice-like texture.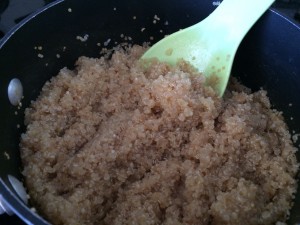 I frequently substitute quinoa for meat, as well as rice. Give your family a healthier alternative and more energy!!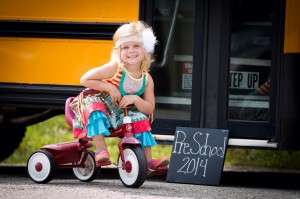 Superfood Quinoa Eggplant Involtini
(Inspired by Mary Ann Esposito of Ciao Italia)
Ingredients:
2 Medium eggplant, slices 1/4 inch thick
1/2 cup quinoa
1-1/2 cup water
2 cloves of garlic, pressed
2 tbsp. Aroma seasoning by Ciao Pittsburgh (OR 1 tsp. oregano, 1 tsp. basil, 1 tbsp.parsley)
Salt/pepper
2 tbsp. Olive oil
1 6 oz. can tomato paste
1/2 cup fresh grated parmesan cheese
Directions:
Preheat oven to 350 degrees.
Bring water to a boil in a saucepan and add quinoa.
Cook on low heat until water is absorbed.
Add tomato paste, spices, Parmesan cheese, salt and pepper. Mix well.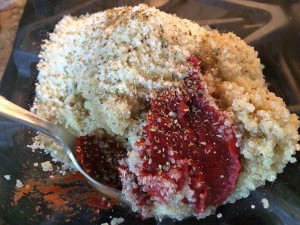 Coat a baking sheet with olive oil, place eggplant slices on sheet and brush tops with olive oil.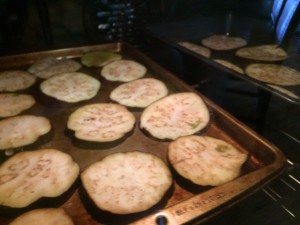 Bake 15 mins. or until eggplant is softened.
Let cool and stuff with quinoa mixture. (Place mixture in the middle and roll.) You will be surprised by the malleability of the eggplant after being baked.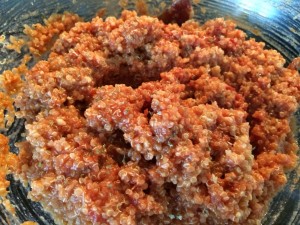 Coat a casserole dish with olive oil. Place rolls in a single layer, drizzle olive oil on the tops, and sprinkle with parmesan cheese.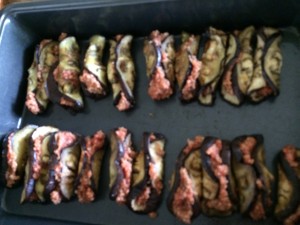 Cover with foil and bake for 15 minutes. Take foil off for the last 5 minutes.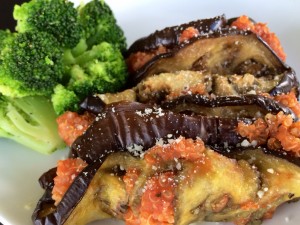 Serve as a side dish or with a salad or vegetable!
Ciao!