Our most recent trip to Miami was a total breeze! What?? Traveling with 2 and 4 -year- old monkeys can be easy??? Follow my top 10 steps for a tantrum-less, tear free, and totally fun trip the kiddos will never forget!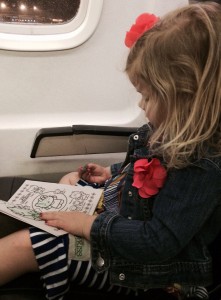 Let's jump right in:
#1 We each only have 2 hands!!! Take a shuttle service near the Airport for a seamless luggage transition from car to airport and back!  Here in Pittsburgh, we use the PIT Stop! They are awesome!! Traveling in the winter?  Your car is waiting for you, clear of snow and ice, with seat warmers ON!!
#2 What to wear? Be happy with your choices!
When we look our best, we feel our best, and our attitude is best! No pajamas! Scary! Be comfortable but stylish and most importantly…layer!!  Traveling cold to warm?? Wear your emergency layering jacket as your heaviest piece then go backwards!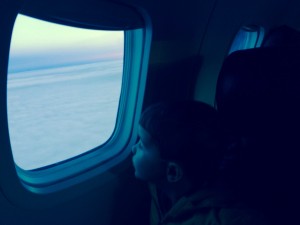 What we wore:
Bella:
Miss Priss striped Capri pants, BabyNay sleeveless top, Circo jean jacket and silver sparkle TOMS.
Brady:
Relaxed fit Gap jeans, Gymboree polo, Gap windbreaker and Adidas tennis shoes.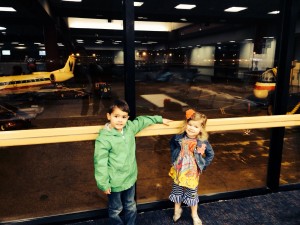 Kevin:
Jeans, breathable Under Armour T-shirt, Adidas 3/4 zip-up and tennis shoes. (If anyone has to break a sweat, it is dad- Maybe loading the car or carrying a monkey!)
Me:
INC Skinny jeans, Kensie racerback black tank, Kensie oatmeal anywhere jacket and Lucky strapped island wedges. Wear silver jewelry that does not need removed in security!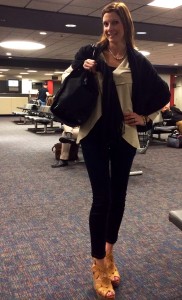 #3 Always wear the largest heaviest shoes and clothing. (Notice we wore our jeans and biggest shoes! )
#4 Traveling cold to warm? Never lug winter coats through an Airport! Layer and bring a pashmina or scarf in case you need to wrap up a child!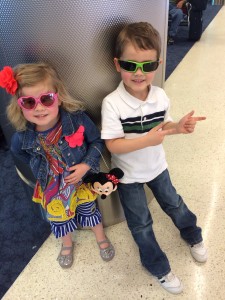 #5 DO NOT bring car seats! If your plane is going down, the car seats you brought for the plane will not save them! If your destination requires a rental car, you can rent car seats!
#6 DO bring a small, umbrella stroller! Inevitably, one child gets tired walking or needs a nap. You can check this stroller at the gate- which means use in the airport- and pick up as soon as you exit.
#7 Pre-plan and Pack Essentials in your Mommy Bag!
This trip I took my Tory Burch black Ella tote! (Yes, I am obsessed with TB right now!!!)
It is the ultimate travel bag because it is nylon and can handle spills, sand and water!  Always bring our pashmina in your carry on- it serves a dual purpose it can also be a blanket if necessary on the plane!
What else is in my bag:
Hand sanitizer
Tissues
Snacks
Activity books with TONS of stickers!
iPads
Lip gloss
Valuables- my jewelry zip-up!
One set of pool gear for all- swimwear and flip flops! Which brings me to #8…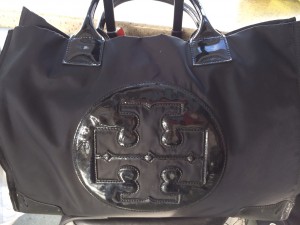 #8 Bring swimsuits and flip flops in your mommy bag! Going somewhere warm? Arriving early afternoon? Check-in times are usually late afternoon. Wow them with your planning and enjoy your first hours poolside with a cold beverage!!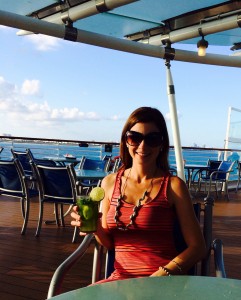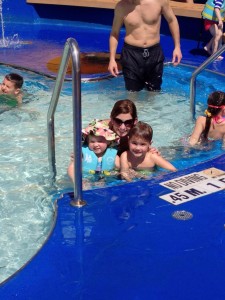 #9 Be cheerful, easy- going, and upbeat. I know! Way, way easier said than done! Those of you who know me well already, know that I work on this every single day of my life!! As a perfectionist, I want anything and everything to be perfect! By breathing, putting on a smile, and relaxing, you will keep your husband and kids in good spirits no matter what the circumstances!
#10 Last, but not least!
Lollipop, lollipop, o lolli lollipop…lollipops go a long way !!! They give you time! It takes a child approx 4 minutes to get bored with or finish chewing a lollipop. Because of the sugars lollipops contain, they can easily settle an upset stomach (adults and kids), be the extra few minutes you need, or hold the kids over to the next meal!  Never leave home without lollipops!
I hope these tips help you and/or give you the confidence you need to plan a trip with your little ones!! Do it!! We have been fortunate enough to travel to San Diego, Orlando, the Bahamas…and many other exciting destinations with our kids!
Don't listen to other people, the kids will remember, it is fantastic bonding time with the family, and they get to see there is a world outside of your hometown! All great things for their learning and growing!
Ciao!!