Ready for the long weekend? Memorial Day picnics require the perfect picnic sides. Cold side salads are always a hit. One of my favorites is a Greek quinoa salad! A healthy, quick and easy salad bursting with the traditional and refreshing Greek flavors we love.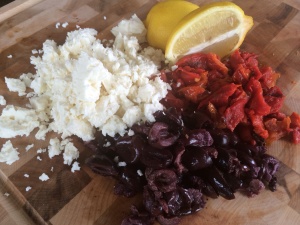 Tomatoes, cucumbers, red onion, feta cheese, and a whole lotta squeezed lemon!
This heathy Greek quinoa salad can be served alone or alongside grilled favorites! No guilt and totally healthy, superfood quinoa is a protein powerhouse. Give this salad a try!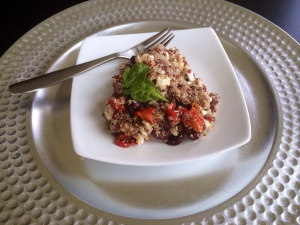 Greek Quinoa Salad
Ingredients:
1-1/2 cups quinoa
3 cups water
3/4 cup tomatoes, chopped
3/4 cup cucumber, chopped
1 small/medium red onion, chopped
1/2 cup pitted kalamata olives, chopped
1/2 cup crumbled feta cheese
4 lemons, squeezed
Salt/Pepper
Oregano
Fresh parsley, chopped
Directions:
Rinse quinoa in a strainer to remove any sediment.
In a medium saucepan, add water and quinoa.
Being to a boil and summer for 12-18 minutes or until quinoa is soft but still firm to the bite.
Drain quinoa well and cool.
Once the quinoa is cool, add all other ingredients to a large mixing bowl.
Squeeze lemon juice and add oregano, salt and pepper to taste. Garnish with fresh parsley and/or chop some and throw it in.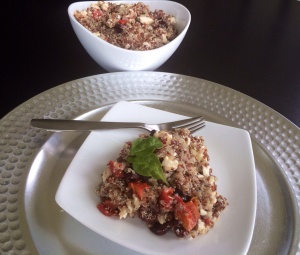 Enjoy!
Ciao!