My food friend Tasha from The Food Tasters was coming over and we were baking with Wigle Whiskey's rums for a super fun event. Of course, we had to eat! So I whipped up a pasta with rosemary, lemon, shrimp, mushrooms, and tons of parmesan cheese. It was amazing!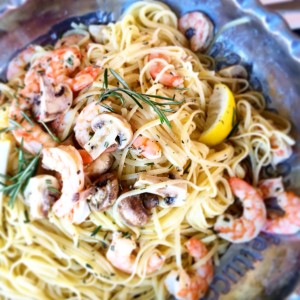 The Food Tasters' Tasha said it was her best meal in months! Good old home cookin' is the best and I can't wait to share this recipe with you! It's so easy and absolutely delicious.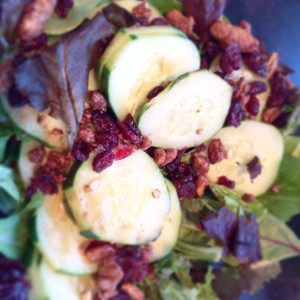 I served it with my favorite salad- baby greens tossed with candied pecans and dried cranberries and topped with a homemade honey lemon dressing! I am hooked on a local honey "The Wright Stuff" made by the beautiful beekeeper and WTAE-TV news anchor Michelle Wright! It is smooth and not too sweet making delicious dressings, sauces, and baked goods! Click here for the HONEY LEMON DRESSING RECIPE!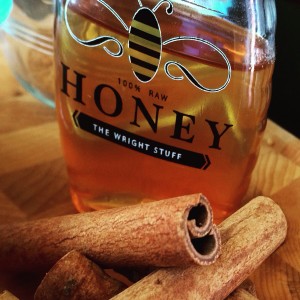 And oooh the pasta- Setaro pasta is my favorite dry pasta because it cooks up like fresh pasta. A little more expensive, like 5X, but it is so worth it! In Pittsburgh, I get my pasta at Pennsylvania Macaroni Co. in the city's shopping district, the Strip!
Ok, I will stop talking…
Here is the recipe!
Rosemary Shrimp Pasta
(Feeds 6-8)
Ingredients:
1-1/2 – 2 lbs. shrimp, peeled and deveined
8 tbsp. butter, melted, halved
1 lemon, cut in half
1 tbsp. rosemary, finely chopped, halved
1 pint mushrooms, sliced
1 2 lb. bag Setaro linguini/fetuccini pasta
1/4 cup white wine
2 tbsp. olive oil
3/4 cup parmesan cheese
rosemary springs for garnish
lemon wedges for garnish
salt/pepper
Directions:
Preheat oven to 350 degrees.
Place shrimp on a foil-lined cookie sheet.
Drizzle half of the melted butter, half of one lemon, and sprinkle 1/2 tbsp. chopped rosemary on the shrimp.
Bake 7-10 minutes or until shrimp are pink.
Line mushrooms on a foil-lined cookie sheet.
Drizzle the remaining butter, squeeze one half of a lemon, and sprinkle chopped rosemary.
Bake 5 minutes or until fragrant and slightly cooked.
Boil pasta in a large pot until al dente.
Heat 2 tbsp. olive oil to a large sauce pan.
Add white wine, shrimp, and mushrooms.
Drain pasta and add to the pan.
Mix in parmesan cheese and coat.
Transfer to a serving bowl, garnish, and enjoy!
Ciao!