Truth. I have tried many different "Mexican Lasagnas" throughout the years. Mostly using leftovers. They ended up being a delicious undressed taco with layers, but honestly never blew my socks off!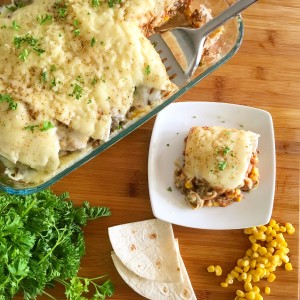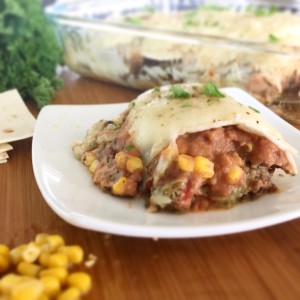 So this time I had an idea. Why not add some yummy Brown Sugar Sriracha Glazed Bacon and see what happens. What happened was like the best thing ever! So instead of a very good cumin, chili powder seasoned garlic onion ground beef layer-kind of boring- we have crunchy bites of sweet and spicy glazed bacon throughout the meat later! Yikes! So good!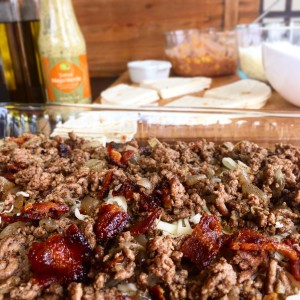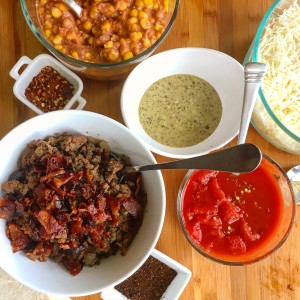 Like most lasagnas, the leftovers the next night were even better!
Here is the recipe…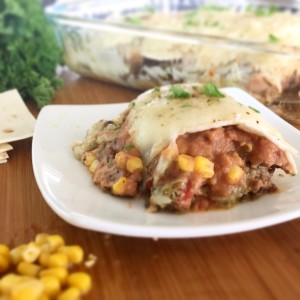 Mexican Lasagna
Makes one 9X13 lasagna
Ingredients:
2 tbsp. olive oil for meat and 2 tbsp. for casserole dish
1 lb. ground beef
1/2 lb. Brown Sugar Sriracha Glazed Bacon (see recipe below)
3 cloves garlic, chopped
1 small onion, chopped
1 tbsp. cumin
2 tbsp. chili powder
red pepper flakes- for added heat
salt/pepper to taste
1 15 oz. can refried beans
1 cup corn kernels, frozen and steamed, canned, or fresh cut off the cob
1 cup Salsa Mojo Verde /your favorite taco sauce
1 14 oz. can stewed tomatoes
10 flour tortillas
2 cups shredded chihuahua cheese
1 cup shredded mozzarella cheese
cilantro, garnish
For the Brown Sugar Sriracha Glazed Bacon
Ingredients:
1/2 lb. thick sliced bacon
1/2 cup dark brown sugar
2 tbsp. sriracha sauce
Directions:
Heat olive oil in a medium pan.
Toss onions and garlic with oil and cook for 3 minutes.
Add ground beef and cook until no longer pink, drain any excess fat.
Place meat in a mixing bowl.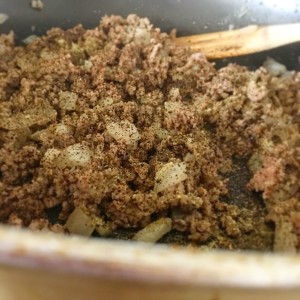 Meanwhile, to cook the Brown Sugar Sriracha Glazed Bacon…
Preheat oven 350 degrees.
Place bacon strips in a single layer on an aluminum foil covered cookie sheet.
Sprinkle dark brown sugar.
In a top to bottom motion, squeeze a small stream of Sriracha sauce in zig zags.
Bake 13-18 mins. until glazed and crispy. (Remember, the sugars on the bacon will "crisp up" as they cool. Don't think it will be crunchy when you remove it from the oven. I know it's hard to wait, but don't burn your mouth it will be very hot!!)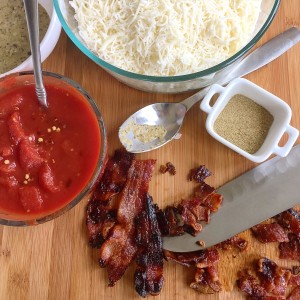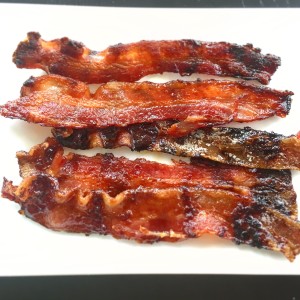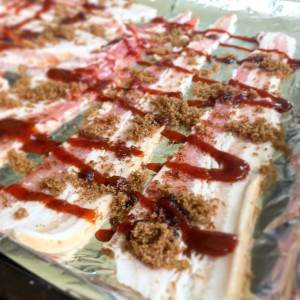 When cool, chop bacon into 1/4 inch pieces and mix into ground beef bowl.
Combine refried beans and corn in a separate bowl.
Combine stewed tomatoes, salt/pepper, and red pepper flakes in a bowl.
Combine cheese in a bowl.
Cut tortilla shells, 2 cuts into triangles.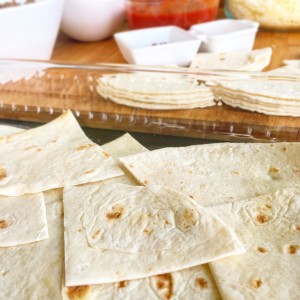 Layer lasgna-starting by coating casserole dish with olive oil, then covering by overlapping tortillas until covered.
Next, add a cheese layer, meat, tomatoes, beans and corn, salsa mojo verde or taco sauce, followed by another layer of tortilla shells.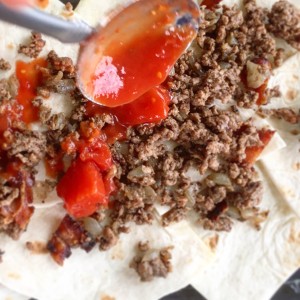 End with tortillas and cheese on top.
Bake 15-25 minutes until cheese is melted and bubbly.
Sprinkle with chopped cilantro.
Enjoy!
Ciao!