We are totally serious about our Meatless Mondays. Why not have one day during the week where meat is out? I find it is much easier to scrape up a quick last minute dinner when meat is not involved. No worries of defrosting or pre-planning. Monday's veg dishes are simple and delicious!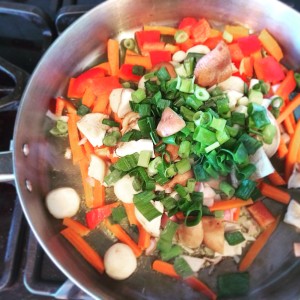 I bought some soba noodles because, like pasta, they are a blank canvas. We love a sweet and spicy sauce so I made a light honey sriracha soy sauce using a ginger infused soy. Oh my is this sauce perfection for a soba noodle dish! Of course I added lots of veggies including shitake mushrooms. Not only are shitake mushrooms a big part of Japanese cuisine, but they add that "meaty" bite that is totally not meat! Ha! This dish can be made in under 20 minutes and is 100% kid approved, just adjust the heat based on preference. A little of the sauce goes a long way especially because the dish is already lightly coated with the oil. Here is the recipe!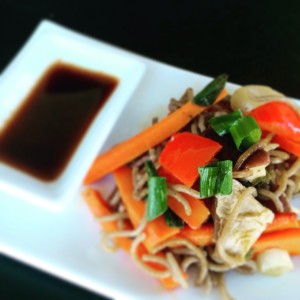 Sweet & Spicy Veggie Soba Noodles
Ingredients:
2 tbsp. olive oil
2 shallots, finely chopped
4 green onions, chopped
3 carrots, cut into matchsticks
1 red bell pepper, chopped
1 can water chestnuts, drained
1 pint shitake mushrooms, stems cut and halved/quartered to desired size
1 1/2 lb. package pre-cooked buckwheat soba noodles
3 tbsp. honey
1 tbsp. sriracha
1/4 cup ginger infused soy sauce
Directions:
Heat olive oil in a pan.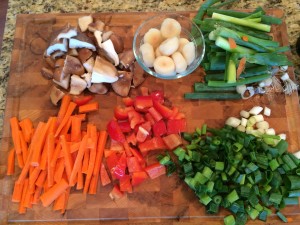 Add veggies that take the longest to cook first, then add the rest of veggies and cook until al dente.
In a small saucepan, add soba noodles and 1 tbsp. sauce.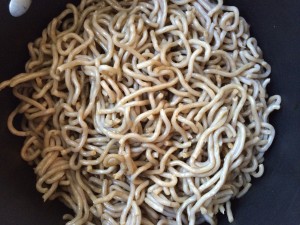 With your fingers, gently separate noodles until all come unstuck.
Heat through and add to pan with veggies, mix well and add more sauce until desired amount is reached.
Top with green onions!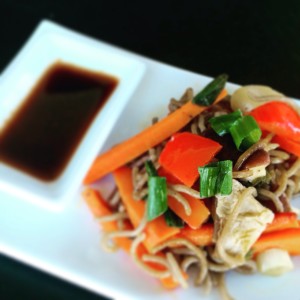 Enjoy!
Ciao!