Spring has Sprung!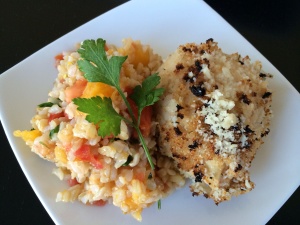 Here in Western PA we are looking at warmer temperatures and hopefully no more snow!!! I look forward to cooking with Spring vegetables and making beautiful, colorful, healthy dishes. I think this was the longest winer vegetable season ever!
Ready for the pool?
Bathing Suits in less than 2 months! What A great reason to fill our bellies with healthy foods!
Quinoa is a favorite superfood, protein-packed seed grown in the Andes Mountains in South America. Packed with essential amino acids, quinoa is essential to many vegetarian and vegan diets. I often substitute quinoa for rice or pasta for an extra healthy dish!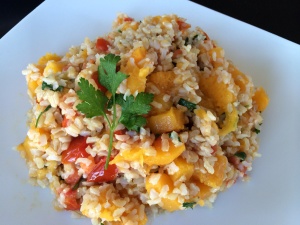 Butternut Squash And Tomato Lemon Garlic Quinoa
Ingredients:
1 cup quinoa
1-1/2 cup water
2 tbsp. olive oil
3 cloves garlic, chopped
2 cups butternut squash, chopped
1 cup tomatoes, chopped
1/4 cup parsley
1 lemon squeezed
salt/pepper
Directions:
Boil quinoa in water according to directions.
Meanwhile, Heat olive oil in a large pan.
Add garlic and cook until golden and softened (3-5mins)
Add butternut squash, tomatoes, garlic and cook until heated through.
Add drained quinoa.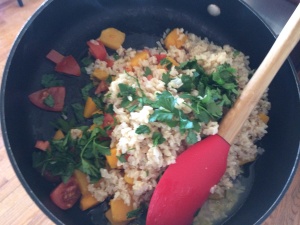 Top with salt and pepper and stir.
Throw in parsley and squeezed lemon.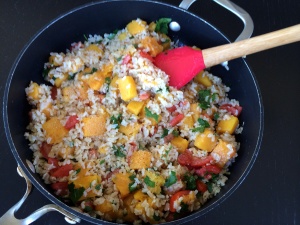 Mix well and serve!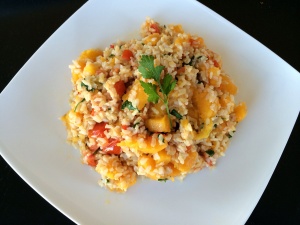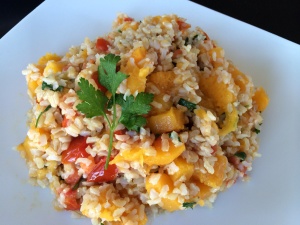 Enjoy!
Ciao!