Quick and easy summer recipes continue with grilled sliced potato recipe. Bursting with flavor, these potatoes have an herb salty garlicky bite with the creaminess of the sour cream finish! These potatoes are fabulous with summer seafood!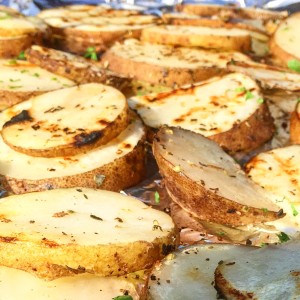 Sometimes I grate Parmesan cheese over the grilled slices and forget the sour cream!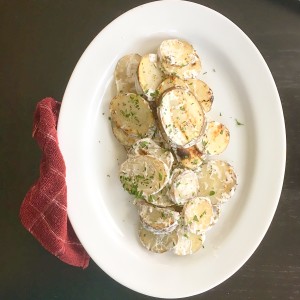 A tip that I recently learned from my co-host Chef David on Between The Eats is that you want to place the potato slices in cold water and bring the pot up to a boil. By doing this the inside and outside of the potato have a chance to get to the same temp for even cooking. This eliminates the outisde of the rounds smushing. Has this ever happened to you? It's the worst! Your recipe will become starchy from broken potato pieces falling off.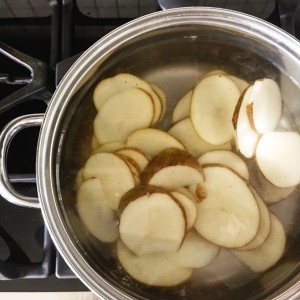 Here is the recipe…
Ingredients:
2 large potatoes, sliced 1/4 inch slices
2 tbsp. Olive oil
1 tsp. Onion powder
1-1/2 tbsp. Dry oregano
Salt/pepper to taste
3 cloves roasted garlic, minced
3-4 tbsp. Sour cream
Parsley or chives
Directions:
Boil sliced potatoes from cold water until a knife test shows just softened, but still firm potatoes.
Drain and cool 5 minutes.
Meanwhile heat the grill to a medium flame.
Add potato slices, olive oil, oregano, onion powder, garlic, salt and pepper to a Gallon ziploc bag.
Gently coat potatoes being careful not to smush.
Place a piece of foil on the grill grate, and line up the potatoes being careful not to overlap.
Grill 4-7 minutes until bottom is golden brown and flip. Grill another 3-5 minutes until done.
Remove from grill, toss with sour cream, sprinkle with chives or parsley and serve.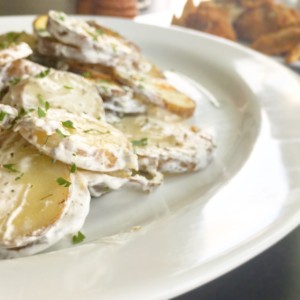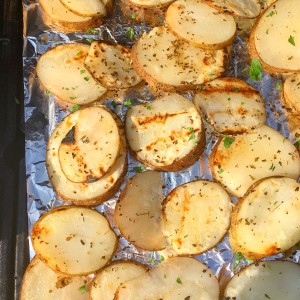 Enjoy!
Ciao!