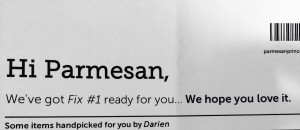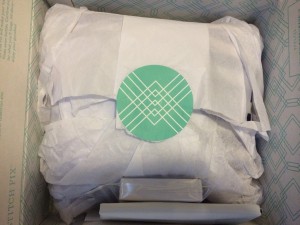 Here are the basics:
What is Stitch Fix?
Stitch Fix is an online personal styling company for women!
1. You fill out your style profile online.
2. Your personal stylist sends you an assortment of items.
3. You try on at home and keep what you like and send back the rest!
What does it cost?
$20 styling fee.
If you buy anything the fee is removed! Plus, there are no shipping or return charges.
Keep the entire fix and get 25% off the total!!
I will use any excuse to have wine, good cheese, try new recipes, and laugh with the girls!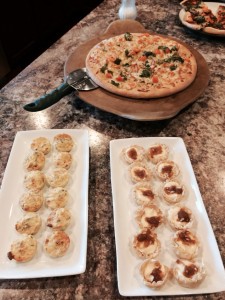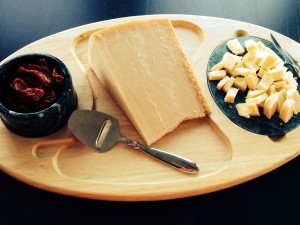 I have never had a stylist or anyone for that matter choose clothing/accessories for me. I style myself. I love to shop, especially a great sale!
So my expectation for Stitch Fix is to have someone choose clothes for me that I would never pick for myself and wow me!! My goal is to keep the entire box and take 25%off!!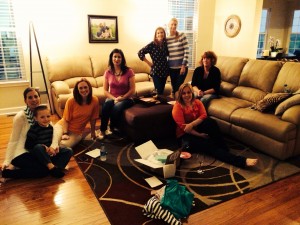 Item #1
Kut From The Kloth
Marquis Striped French Terry Dolman Sweater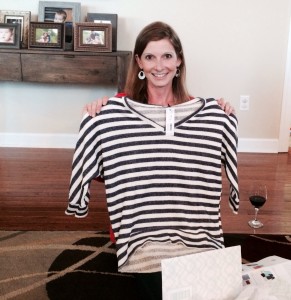 So I tried it on…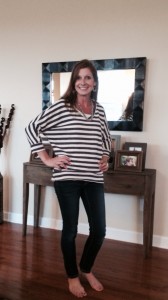 I put this top on the keep pile!
Item #2
Liverpool
Carolyn Colored Cuffed Denim Short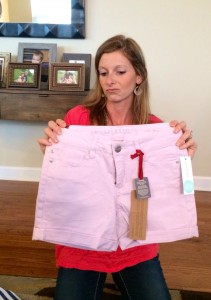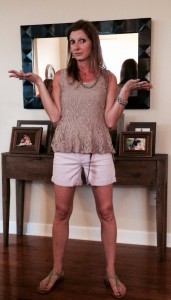 I put the purple shorts on the sending back pile.
Item #3
Collective Concepts
Esten Button-Up Sleeveless Blouse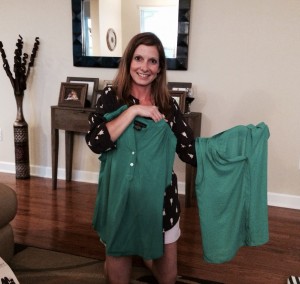 So, I put the cute top I already own on the sending back pile.
Item #4
41Hawthorn
Ivy Tulip Print Tab Sleeve Blouse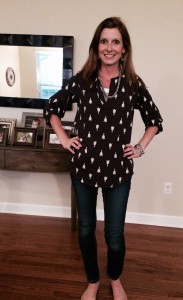 I put the printed blouse on the keep pile because if it is inexpensive…I want it!
Item #5
Pomelo
Lydia Faceted Stones Long Necklace
Nope, nope, nope…no photo needed. Brassy yellow gold with big fake blue stones. I think my camera would have broken!
The Price Reveal:

My entire merchandise total is $240.00.
If I keep everything? $165.00
My keep pile?
$68 tulip printed blouse
$38 striped sweater
$106!! Just for those two items?
I didn't LOVE them and LOVE the price so I sent the entire box back!!!
This experience cost me $20. It was so fun!
What we loved…
EVERYTHING FIT ME PERFECTLY!
This is bizarre, right?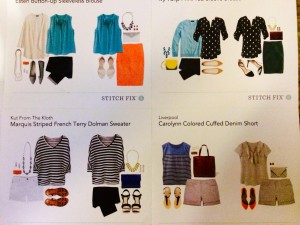 What we hated…
The items didn't go together. No outfits were created with these items.
The box is really only worth the money if you keep the whole fix and get the 25% off!
I hope you enjoyed sharing my first Stitch Fix experience with me! I will get another!! Darien figured me out! He sent me 2 items I already have in my closet!
I encourage you to totally try it! Why not? Worst case scenario is $20!
Here is the link:
Http://stitchfix.com/sign_up?reffer_id=3691311
Please share your experience, too!
Ciao!
This Stitch Fix post was entirely the opinions of ParmesanPrincess and friends! Stitch Fix did not reimburse me or give me any free clothes for writing about their company!