Chicken thighs are the best! When cooked with the right technique, they get crispy skin and juicy, flavorful meat. My favorite cooking method is to brown skin-on thighs with a simple olive oil and seasoning rub, and throw them in the oven for the perfect finish.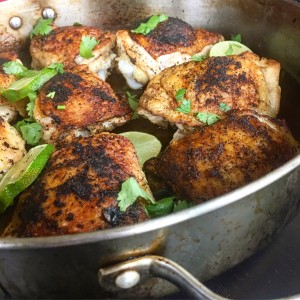 It took me a bit to master the art of browning the skin because I am too impatient. Did you ever go to flip and the skin detaches from the meat and sticks to the pan?
Uuugh!
The solution to this problem is making sure the pan is at a high heat and waiting to flip until the skin is crisp. If you can be patient, your chicken thighs will be perfect!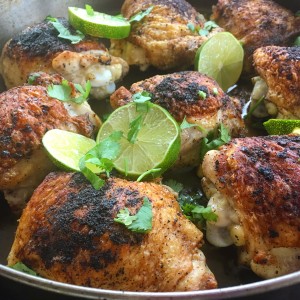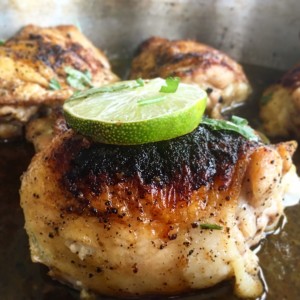 Here is the recipe…
Southwest Chicken Thighs
Ingredients:
4-6 skin on chicken thighs
3 tbsp. Olive oil
1 tbsp. Garlic salt
1 tbsp. Chili powder
1 tsp. Cumin
1 tsp. Red pepper flakes
2 limes
Directions:
Preheat oven 350 degrees.
Rub chicken thighs with olive oil using fingers or brush.
Sprinkle with garlic salt, cumin, chili powder, and red pepper flakes.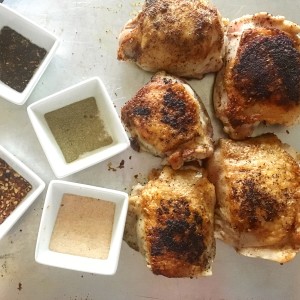 Heat your olive oil swirled pan to high heat.
Place chicken thighs skin side down and cook until seared and browned approx. 7-9 minutes.
Flip and brown other side of chicken.
Place pan in oven 12-20 minutes until chicken is cooked through.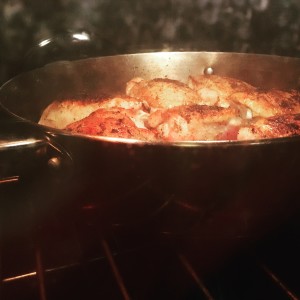 Remove from oven.
Place sliced lime on each thigh.
Serve with your favorite sauce and sides.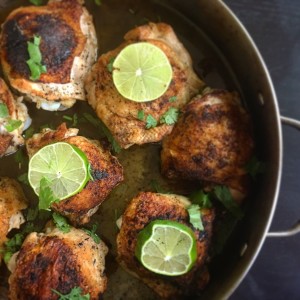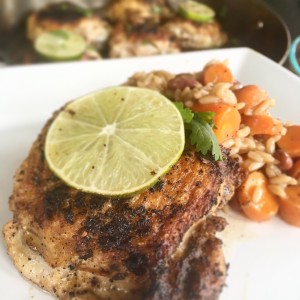 Enjoy!
Ciao!