Ever hear of Monterey Bay Aquarium Seafood Watch? If you are worried about seafood safety, this is your app! Whether you are buying fresh fish or ordering in a restaurant, the Seafood Watch app recommends ocean friendly seafood and gives up to date information regarding how each item should be fished or farmed.
https://itunes.apple.com/us/app/seafood-watch/id301269738?mt=8
My fish mongers at Penn Avenue Fish Company in Pittsburgh's Strip District introduced me to this cool app! Have you found your fish monger, yet?
Enjoy another easy fish week dinner! On the table in 30 minutes!!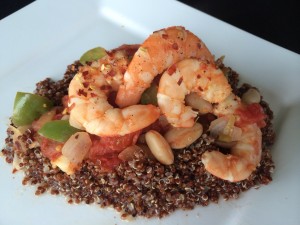 Shrimp Jambalaya
Ingredients:
2 cups shrimp, cleaned and deveined.
1 35 oz. can whole peeled San Marzano tomatoes
1 tbsp. chopped thyme
2 garlic cloves, pressed
1 small onion, chopped
1 bell pepper, chopped
1 15oz. can white cannellini beans
2 tbsp. cayenne pepper
1 tbsp. chili powder
Salt/pepper
1 tsp. Red pepper flakes ( and a little extra to sprinkle on top)
Directions:
Heat olive oil in your deepest frying pan on medium heat.
Add garlic, onions, pepper and cook for a few minutes to soften the veggies.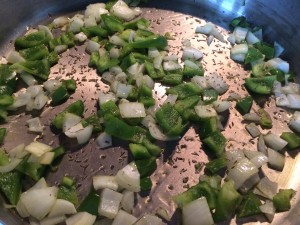 Add tomatoes, shrimp, beans, herbs, and spices.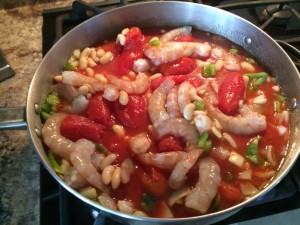 Cook until shrimp are cooked through -approximately 7 minutes with the lid on. The shrimp will lose their translucency and pink/whiten up when cooked.
Red Quinoa
Directions:
1 cup uncooked quinoa, rinsed and drained, for 1-1/2 cup water.
Heat water and quinoa to a boil.
Simmer until liquid is absorbed.
Serve the shrimp jambalaya over the red quinoa and top with extra red pepper flakes for an extra kick!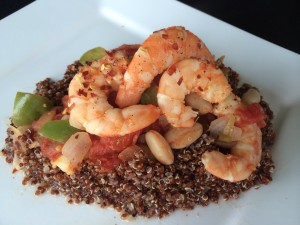 Ciao!
Penn Avenue Fish Company
2208 Penn Ave. in the Strip
http://pennavefishcompany.com/fresh_fish.html