Another quick back to school meal is a 20 minute pan sauce! Throw in some veggies and superfoods and you have a healthy, easy dinner!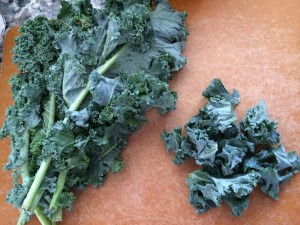 Kale chip recipe:
http://www.parmesanprincess.com/2014/04/10/super-chips-garlic-parmesan-baked-kale-chips/
My kids love to pick out pastas when we are at the store. One of their favorites is orecchiette, Italian meaning ears, or spaceships, or planets, so they say.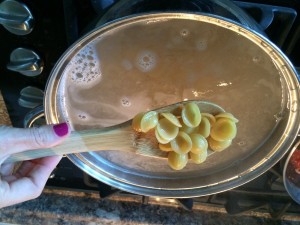 When kids get involved in the dinner process, they are more likely to eat the meal, even if it is full of healthy vegetables!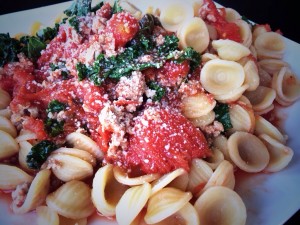 Turkey Kale Orecchiette
Ingredients:
2 tbsp. Olive oil
2 cloves garlic, pressed
1 small onion, chopped
1 lb. lean white meat ground turkey
1 35oz. can San Marzano tomatoes
1 -1/2 cup kale, washed and chopped
1 tbsp. Chopped basil
1 tbsp. Chopped rosemary
1 tbsp. Chopped thyme
Salt/pepper
1 lb. orecchiette pasta
Fresh grated Parmesan cheese
Directions:
Heat oil on medium heat in a your deepest frying pan.
Press garlic and cook until softened, 5 minutes.
Add the turkey and cook until no longer pink. Drain any fat.
Add onion, tomatoes, basil, rosemary, thyme, salt and pepper and cook for 10 minutes until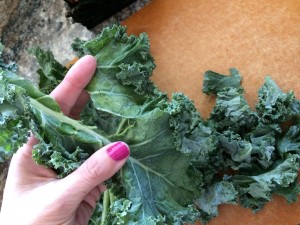 heated trough.
Add the kale last and mix well.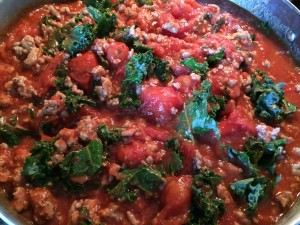 Meanwhile, boil a pot of water to cook the pasta according to the package instructions and drain.
Add the orecchiette to the pan and mix.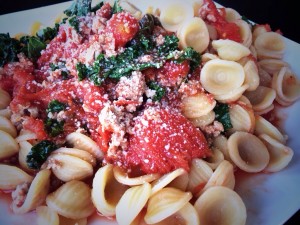 Ciao!