I absolutely love fish tacos, any kind of tacos, and I'm always searching for the best! Between Penn Ave Fish Company's fish tacos and Edgar's Taco stand's Carne Asada tacos, I am a happy girl.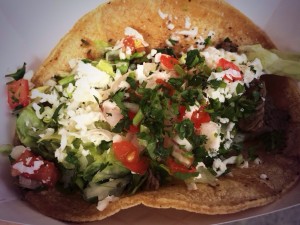 I eat some form of taco every time I'm in the Strip District! (And Penn Mac olives and cheese and La Prima coffee and Colangelos pizza and Pittsburgh Popcorn Company) Yikes!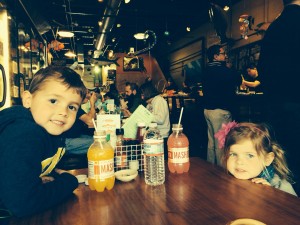 Anyway, every fish taco is different; made with different fish, cooked plain or spicy, stuffed with lettuce or cabbage, and the list goes on. Penn Ave Fish Company uses a variety of fish, boiled in onion water, totally spicy, stuffed with cabbage, topped with tomatoes…and they are delicious!
I visited my fish mongers at Penn Avenue Fish Company and told them, for Fish Week on the blog, I wanted to make amazing fish tacos like the ones they make everyday! They chopped fresh grouper, salmon, and tuna, ready to cook. This saved me the fish choosing process, of which I am totally clueless, and the chopping time for sure! This is why you need a good fish monger!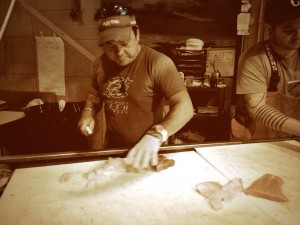 Penn Avenue Fish-ish Fish Tacos
(makes 6ish tacos)
Ingredients:
1-1/2 lbs. chopped tuna, grouper, and salmon
1 medium onion, chopped
2 tbsp. taco seasoning
4 oz. sour cream
1/2 cup chunky medium salsa (I used Ortega)
2 tbsp. Sriracha sauce
2 cups shredded cabbage
1 chopped tomato
Chopped cilantro
6 tortilla shells
Directions:
Fill a pot with water and chopped onions.
Bring to a boil.
Add fish.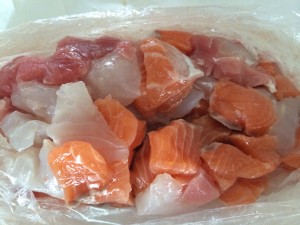 Cook until the chopped fish floats (5-8 mins, not long!)
Remove fish with a slotted spoon to drain water.
Place fish in a mixing bowl and coat with taco seasoning while warm.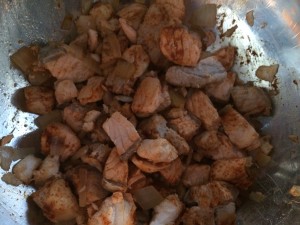 Mix together the sour cream, salsa, and sriracha in a small bowl.
Fill the tortilla shells with shredded cabbage, tomatoes, fish and sauce! Sprinkle some cilantro!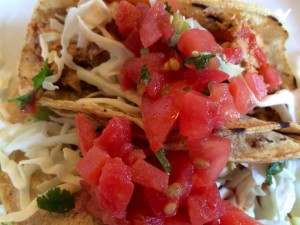 Enjoy!
Ciao!