I always make Eggplant Parmesan when I have an eggplant. Lately, I have been roasting eggplant and squash in the oven with olive oil and salt and pepper, it is delicious!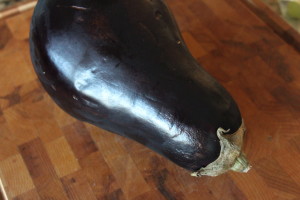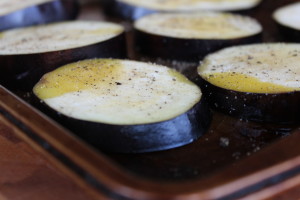 These roasted vegetables can be ingredients or stand alone as a side dish! In this pasta dish, the roasted eggplant is garnished with red pepper flakes, oregano and Basil, fresh tomatoes, and of course the fresh grated Parmigiano Reggiano.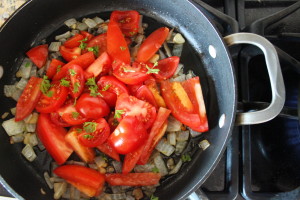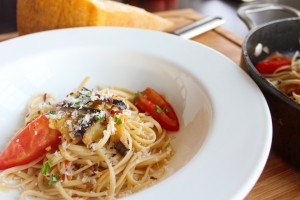 Adding the red pepper flakes to the pasta dish adds a new layer of flavor without being overwhelmingly spicy. Here is the recipe…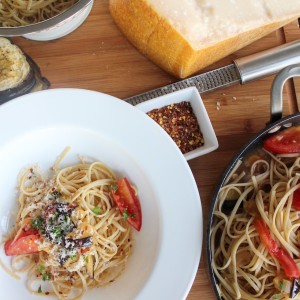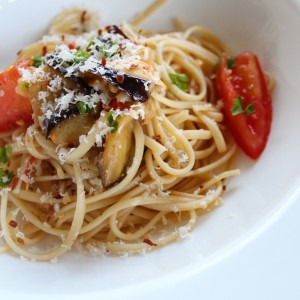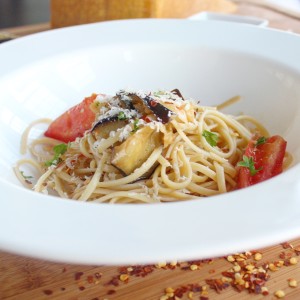 Spicy Roasted Eggplant Linguini
(Serves 4)
1 large Eggplant
2 tbsp. Olive oil +1/4 cup
Salt/pepper
1 tsp. Oregano
3 cloves garlic, finely chopped
1 small onion, finely chopped
2 Roma tomatoes, wedged
2 tbsp red pepper flakes
1 tbsp. Fresh basil, finely chopped plus some for topping
1 lb. linguini, fresh or dry
Parmigiano Reggiano, fresh grated
Directions:
Preheat oven 425degrees.
Slice Eggplant and place in a single layer on an inset cookie sheet.
Salt/pepper and let sit for 20 minutes.
Drizzle with olive oil and bake for 20 minutes until softened and starts to brown.
Meanwhile, sautéed garlic and onion in a pan with olive oil.
Add tomatoes, Basil, pepper flakes and oregano. Let it bubble until it thickens.
Remove Eggplant and continue to simmer 10 minutes.
Being a pot of water to boil, cook pastas until al dente and drain.
Add 1/4c cup pasta water and incorporate pasta into pan with the sauce.
Top with red pepper flakes, Basil, parsley, and fresh grated Parmigiano Reggiano.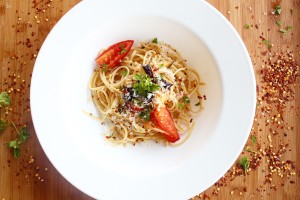 Enjoy!
Ciao!
Remember, always use fresh Parmigiano Reggiano, the only real Parmesan cheese from Parma, Italy.
Parmesan Princess is a proud US Ambassador Parmigiano Reggiano.