Sweet peas are so underrated. Always associated with baby food, I feel like they are the last ingredient we think of to make something serious. For example, my kids will have peas with something else, I will grab them as a garnish, but they are hardly ever the main act.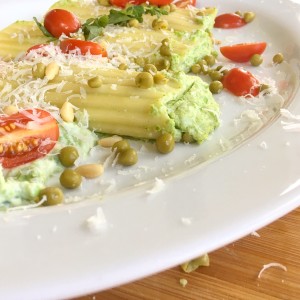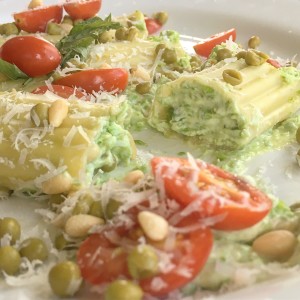 So there is always that experimental Meatless Monday where various vegetables get new jobs. This particular Monday, I was looking for a manicotti veg and there was the bag of frozen peas. I blended the peas with ricotta, egg, and fresh grated parm for the filling. Just then Bella walked into the kitchen, "Is that mint ice cream?" she asked. Well, it looked like it!
I was thinking they are never going to eat this but I'm knee deep, so this is what we are having for dinner. The neighbor kids came over, who always love to help me cook, so I boiled the manicotti shells and the kids had a filling party. It was so great! We discussed the careful art of spooning the filling without tearing the shell, and filling each side so that the middle gets some, too.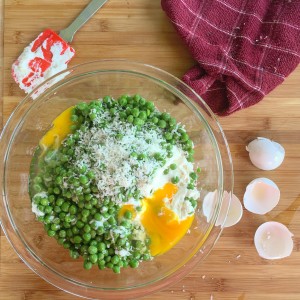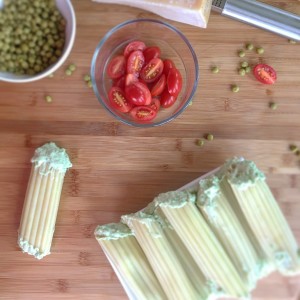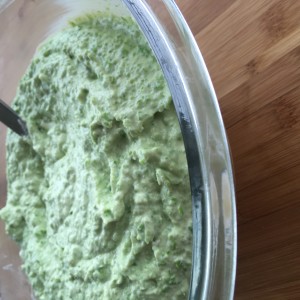 We blended some extra peas, ricotta, and parmesan cheese for the topping. All the kids loved it! Was it the sweetness from the peas? The fact that they were involved in creating the final product? Who knows? But I was thrilled! Make these for dinner because they are delicious, but more importantly so the kids can help and hopefully eat!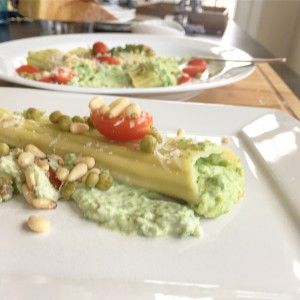 Sweet Pea Ricotta Manicotti
Ingredients:
2 cups fresh whole milk ricotta
1/2 cup fresh grated parmesan cheese
1 egg
1 16 oz. frozen sweet peas – saving 1 cup
salt/pepper
8 dry manicotti shells
For Topping:
2 cups peas
2 tbsp. ricotta
1/4 cup fresh grated parmesan cheese
1 cup sliced cherry or grape tomatoes
2 tbsp. pine nuts
parmesan to grate on top
Directions:
Preheat oven 325 degrees.
Blend Ricotta, peas, parmesan cheese, and 1 egg.
Salt/pepper and set aside.
Boil manicotti shells 5-8 minutes until just under cooked.
Fill manicotti shells with ricotta pea filling with a small spoon or piping bag.
Spray 9X13 glass pan with non-stick spray.
Spoon left over filling in bottom of pan and spread with a spatula.
Line pan with one layer of manicotti.
Cover with foil and bake 20-30 minutes until filling is hot and starts to bubble.
Meanwhile, make topping. Blend peas, ricotta, and parmesan cheese.
Remove manicotti from oven and allow to set 10 minutes.
Plate the manicotti by placing them on a smear of topping underneath, one scoop on top, sprinkle with sliced tomatoes and pine nuts and finish with fresh grated parmesan cheese.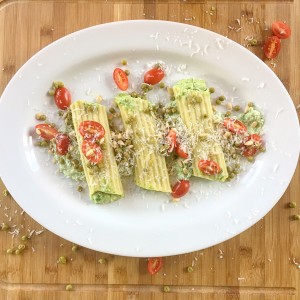 Enjoy!
Ciao!