Show winter who is boss with a big pot of hot soup! I think of this soup as a vegetable soup but somehow adding peas automatically makes it…Sicilian Split Pea Soup!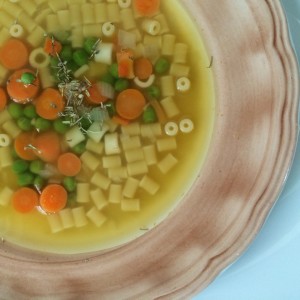 Maybe it is because we rarely add peas to soup. Because they get super mushy, yes. The fix? Add the peas last or start with dehydrated split peas. The broth base can be chicken stock, bouillon, or this recipe can easily be made into a vegetarian recipe. I didn't have one on hand, but a ham bone is traditionally put in the stock for even more depth of flavor. Stay warm! Enjoy!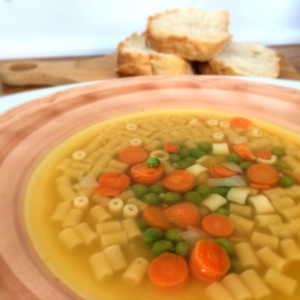 Here is the recipe…
Sicilian Split Pea Soup
Ingedients:
4-6 cups of your favorite chicken stock
1 medium onion, finely chopped
1 shallot, finely chopped
4 carrots, sliced into rounds
3 celery stalks, diced
2 tbsp. olive oil
1/2 lb. ditalini/tubetti pasta
12 oz. peas/ 3/4 cup dehydrated split peas (soaked overnight)
salt/pepper to taste
1 tsp. rosemary
1 tsp. thyme
1 tsp. dried basil
Directions:
Heat olive oil in a large soup pot.
Add onion and shallot, cook until soft.
Pour in chicken stock and bring to a boil.
Add carrots and celery and cook for 20-30 minutes until softened.
Season with rosemary, thyme, basil, salt, and pepper.
Boil water in another pot and cook pasta until slightly under, al dente.
Drain and return pasta to the pot, adding 2 ladles of soup broth to keep it from sticking.
If adding cooked peas add them last.
Add 1/4 cup of noodles to a soup bowl.
Pour over 1-2 ladles of soup.
Top with fresh grated parmesan cheese and serve hot with a crusty bread.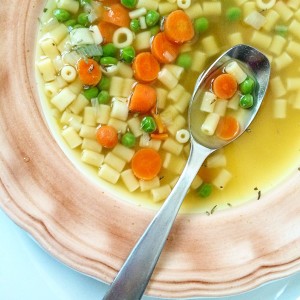 Ciao!