A salsa does not have to be chunky tomatoes scooped up with crispy salty tortilla chips. Although delicious, the components of a traditional salsa can be used to make something new! So let's see…a fruit, onion, chili peppers, and of course a cheese! The habanero has a fruity flavor if you can take the heat and pairs really well with a fruit based salsa.
Most recently, we ate this salsa chilled, alongside beautiful butternut squash wedges that were seasoned with lime and spicy sweet flavors. You can also prepare this recipe warm! Just put some oil in a pan and add the goat cheese last! I love a fruit salsa with a beautiful piece of fish, like salmon! Not sure? Trust me this is delicious!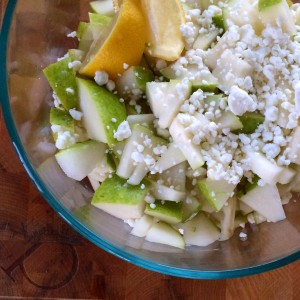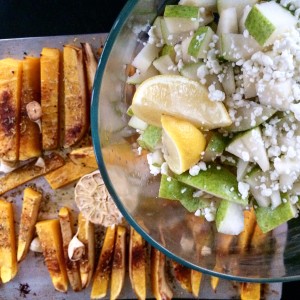 Pear Salsa
Ingredients:
2 pears, chopped (squeeze a little lemon so they don't brown)
1/2 of 1 small red or yellow onion, finely chopped
1 small habanero or poblano pepper, finely chopped
1- 2 lemons, squeezed approx. 4 tbsp.
2 tbsp. your favorite honey, (Right now I looooove The Wright Stuff)
1/2 tbsp. olive oil
1 clove garlic, minced
1 tbsp. chopped cilantro or parsley
salt/pepper to taste
1/2 cup crumbled goat cheese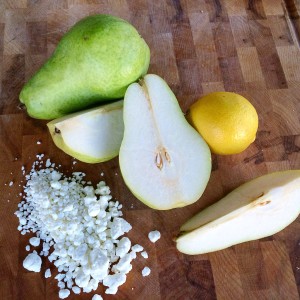 Directions:
In a mixing bowl, whisk together honey, lemon juice, and olive oil.
Add pears, onion, pepper, garlic, cilantro, and salt and pepper.
Mix to coat.
Add crumbled goat cheese and carefully stir.
Serve chilled.
Enjoy!
Ciao!