Linguini clams is probably my all time favorite dish besides seafood pasta, which is pretty much the same thing. I think because it has a light "sauce," just a splash of garlic olive oil, white wine, lemon spritzed yum on each bite. Sooooo good- there is seriously something addicting about it! I was thinking, what if I put these heavenly bites on a crispy pizza crust? And so my white clam pizza was born…topped with fresh mozzarella, red onion, and fresh basil.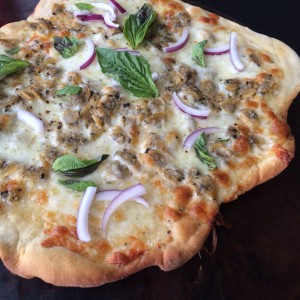 Yep! As classy as a fancy appetizer or as "game day" as a buffalo chicken dip, you can take this pizza anywhere!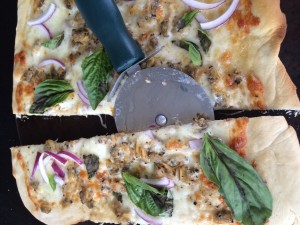 The no yeast easy pizza dough recipe is one to keep forever. One time I was out of yeast packets and added some baking soda to my pasta dough recipe, totally worked! It's a thin crust. You can add herbs for flavor or leave it plain! Experiment, try different things, and let me know what works!
White Clam Pizza
Ingredients:
3 tbsp. olive oil
4 cloves garlic, finely chopped
1/2 lb. clam meat (I use PanaPesca clam meat in juice)
2 tbsp.lemon juice
1/4 cup white wine
salt/pepper
1/2 cup shredded provolone/mozzarella
6-8 slices fresh mozzarella
2 tbsp. fresh grated parmesan cheese
1/2 red onion, frenched, then cut in half if too big -depends on the size of your onion 😉
Handful of fresh basil or arugula
Pre-made pizza crust or recipe below!
Directions:
Preheat over to 400 degrees.
Heat olive oil in a large pan.
Add garlic, cook 2-4 minutes until aromatic.
Add clams, white wine, lemon juice, salt and pepper.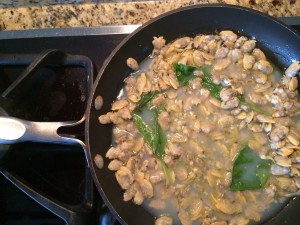 Lower heat and simmer until heated through.
Brush pizza crust with olive oil.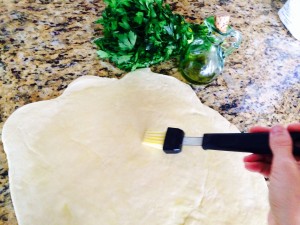 Top with shredded mozzarella/ provolone mix.
Add strained clams.
Top with fresh mozzarella slices and sprinkle with fresh grated parmesan.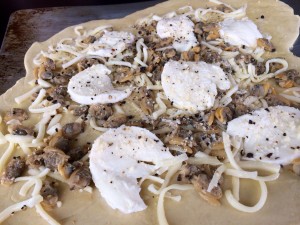 Bake until crust is golden brown and the cheese is melted, approximately 12-18 minutes.
Top pizza with red onion, basil or arugula, fresh grated parmesan cheese, and sea salt.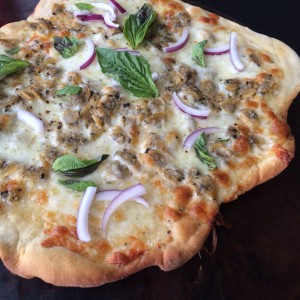 No Yeast Easy Pizza Dough
Ingredients:
1-1/2 cup flour
1 tbsp. baking soda
1 tsp. sea salt
3/4 cup water
2-1/2 tbsp. olive oil
Directions:
In a large mixing bowl, mix flour, baking soda, and salt.
Make a volcano and fill the center with water and olive oil.
Gradually push the flour into the liquid little by little until well mixed.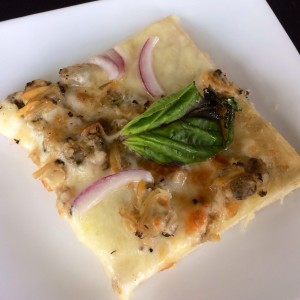 Enjoy!
Ciao!