With two turkeys stuffed and an extra pan for the vegetarians, I always have a ton of leftover stuffing!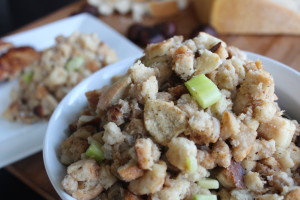 We eat some on the "leftover plate" or sandwich, but never really turn it into another meal. Lately, my eyes have been opened to the wonderful world of fresh chestnuts.  I was in an old Italian section of Pittsburgh, Bloomfield, and there was a chestnut stand on the sidewalk. I bought some and thought I would experiment.
Of course adding cheese and chestnuts, changes the flavor of traditional stuffing completely. Add turkey, chicken, or sausage and turn the dish into a hearty meal!  Here is the recipe…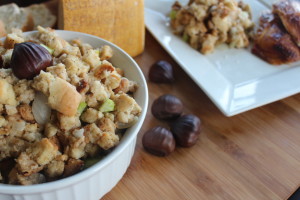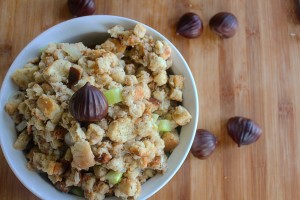 Chestnut Stuffing
Ingredients:
2 cups chestnuts
2 loaves white bread, cubed
1 stick butter
1 onion, chopped
3 stalks celery, chopped
4 cloves garlic, finely chopped
salt/pepper
1/2 cup chicken broth
1/2 cup Parmigiano Reggiano, fresh grated
1 cup pulled turkey
Directions:
Preheat oven to 350 degrees.
Cut an "X" shape on the chestnuts with a sharp knife.
Place into a saucepan and cover with cold water.
Bring to a boil, then lower the temperature and simmer for 30 minutes, or until tender
Drain and let the chestnuts cool.
Peel skin and chop the inside.
In a large pan, melt butter and add onion, celery, garlic, salt and pepper.
Add sage and chestnuts and stir.
Mix 1/2 cup of mixture with 2 cups of cubed bread in a large mixing bowl until incorporated.
Add chicken broth as needed until just moist.
Stir in pulled turkey and Parmigiano Reggiano.
Transfer to a casserole dish and bake 40 minutes.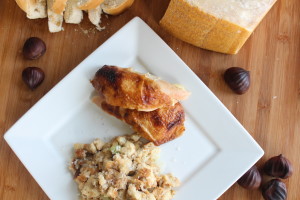 Enjoy!
Ciao!
I am happy to be representing Parmigiano Reggiano for Parma, Italy as their US Ambasador.  Remember, Parmiginao Reggiano is the only parmesan = )