As umami as parmesan cheese? Yes, Parmesan fits into the category of the umami taste sensation, which is a savory, robust, and mouthwatering flavor. The distinct and totally necessary umami was named the fifth taste sensation a little over a decade ago on top of sweet, sour, salty, and bitter. Japanese for "yummy" or "good flavor," Umami is the perfect name for a restaurant. Don't you think?
Executive chef of the recently closed Tamari in Pittsburgh's Lawrenceville neighborhood, Roger Li will open his Izakaya, or Japanese Pub called Umami a few blocks away above Round Corner Cantina.
As a sneak peek, Roger held a pop up at neighbor Domenic Branduzzi's Grapperia. A sampling of small plates, I tasted the Japanese street food dishes that will be served at the new Umami. Since it was negroni week, there was even an umami negroni on the menu!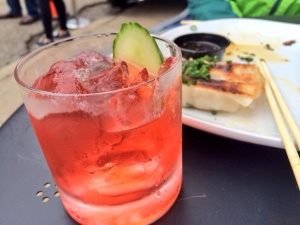 The pork gyoza, pot sticker- like dumplings, tasted incredible. A traditional "drinking snack." Yep, that's what Li is going for!
Holy Robatas, Batman!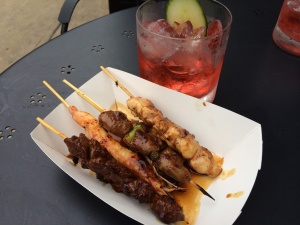 Probably my favorite of the night, I tasted every variety of the Robatas, which included chicken thigh, hangar steak, chicken heart, chicken skin, and shrimp!
Chirasi-Sashimi Rice Bowl
For those of us who don't want to order a la carte sushi, the sashimi rice bowl is a perfect menu option!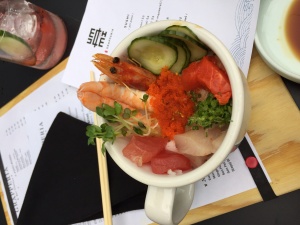 Don't miss Umami's next Pop Up on the patio at Round Corner Cantina June 22 at 4pm! Umami is scheduled to open its doors this fall!
Enjoy!
Ciao!