Even during busy weeks I cook delicious meals for my family by keeping the ingredients simple! We have had chili the last two weeks, once per week, because it is easy and I can throw it together and let it cook while I'm working.
I always have ricotta and parmesan cheeses in my refrigerator, what a great combination. So the possibilities begin with, I can make a lasagna, manicotti… This time I wanted to try layers of our favorite flavors!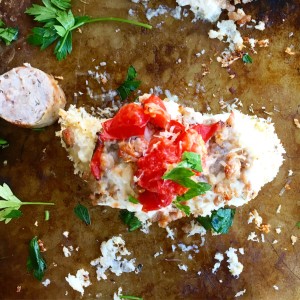 Brady wanted chicken and Bella wanted sausage. Brady has always loved Italian sausage, but since we have run out of the Signorino family sausage stash, he won't eat the bought stuff. Spoiled?
I decided to make a layered dinner with chicken, sausage, ricotta, tomatoes, and basil. Only a salad on the side. It was delicious! I used my traditional breading, panko breadcrumbs, parmigiano reggiano, herbs, salt and pepper. Its perfect! Here is the recipe…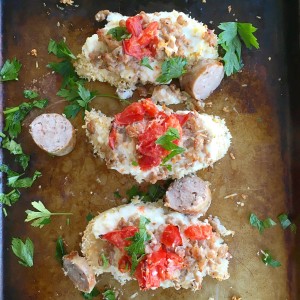 Chicken and Sausage Ricotta Parmesan
Ingredients:
1-1/2 lb. thin boneless, skinless chicken breasts
1/2 lb. spicy Italian sausage
4 cloves garlic, finely chopped
1 cup Panko breadcrumbs
1/2 cup fresh grated Parmigiano Reggiano + fresh grated for topping
salt/pepper
1 tbsp. basil, finely chopped or dry 1-1/2 tbsp.
1 tbsp. garlic olive oil
1 cup fresh ricotta cheese
1/2 cup fresh diced tomatoes, or roasted tomatoes
Parsley for garnish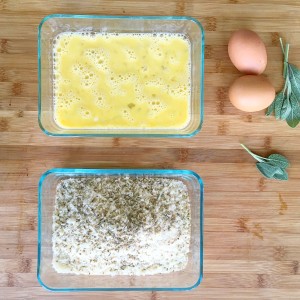 Directions:
Preheat oven to 350 degrees.
In a pie plate, mix Panko breadcrumbs, 1/2 cup Parmigiano Reggiano, salt/pepper and chopped basil.
Rinse and dry chicken breasts.
Dip into egg, and coat with breadcrumb mixture.
Meanwhile, remove sausage from casing and brown and drain.
Using the same pan, brown breaded chicken breasts until golden and almost cooked through.
Top chicken breasts with a layer of ricotta, sausage, and tomatoes.
Bake for 6-10 minutes or until the internal temperature of the chicken reaches 160 degrees.
Remove and top with fresh grated parmesan and parsley.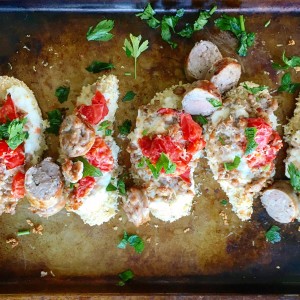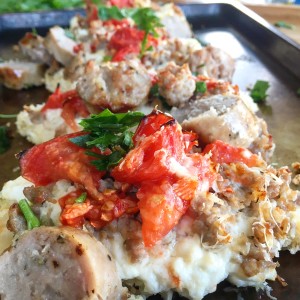 Enjoy!
Ciao!
I am happy to be representing Parmigiano Reggiano from Parma, Italy as their US Ambassador. Remember, Parmigiano Reggiano is the only parmesan = )