In our home, we sit down to our Thanksgiving meal in the middle of the afternoon, like a Sunday dinner, between 2-3pm. My typical routine is getting the turkey(s) in the oven and making a beautiful breakfast for the family before starting the side dishes.
Panettone French Toast is a favorite holiday breakfast! Sweet and creamy with a browned, toasted edge, this recipe accentuates the flavors of the season. The panettone is filling enough to hold us over until Thanksgiving dinner is served.
A panettone …
…is a sweet Italian bread from Milan, made once per year in September /October and enjoyed through Easter until they start to dry out. Panettone makes the best french toast!!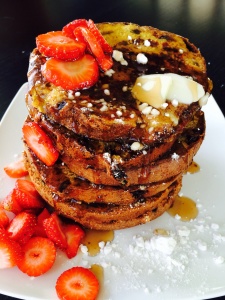 Panettone French Toast
(Makes 6 thick slices)
Ingredients:
1 Panettone, sliced into 6- 3/4 inch thick round slices (Save the rounded top slice for toast!)
4 eggs
1/2 cup whipping cream
1 tbsp. sugar
1 tbsp. light brown sugar
1 tbsp. cinnamon
1 tbsp. vanilla
1 tsp. ground ginger
1 tsp. ground nutmeg
1/2 tsp. ground cloves
1/4 cup butter (pan and to butter French toast)
Directions:
Beat eggs in a mixing bowl.
Whisk together all ingredients except butter.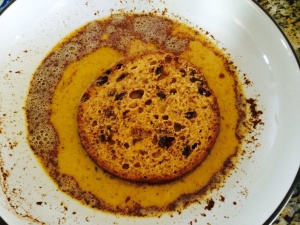 Melt 1 tbsp. butter in a medium pan or a nonstick griddle.
Dip each slice of panettone in the mixture, flipping to coat both sides completely.
Grill until the slices are golden brown, firm (not eggy), approximately 4-5 minutes per side.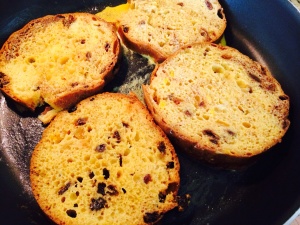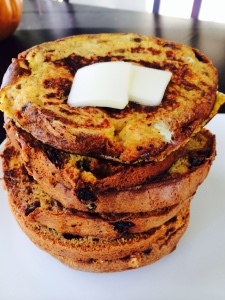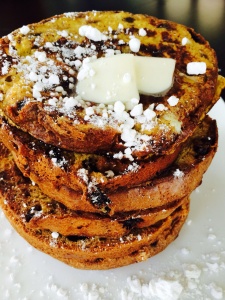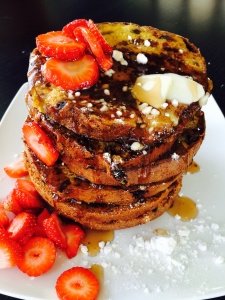 Add your favorite toppings and serve! I like to dust the French toast with powdered sugar and add fresh sliced strawberries for color!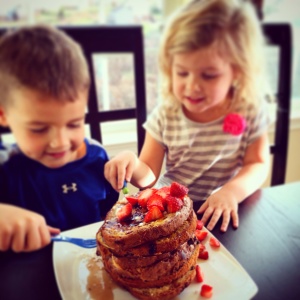 Enjoy! Happy Thanksgiving!
Ciao!