Sometimes the naming game is half the battle. Take this dish for example. Cilantro Lime Shrimp with Chili Garlic Dip was the final decision, but really the shrimp are chili, too. How much of the ingredients of a dish should be in the title? Is it going to be a surprise that I also roasted corn off of the cob and served it all over rice? With over two years of blogging recipes, there is still so much more to learn!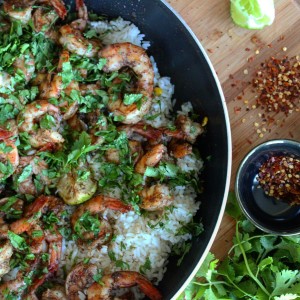 Shrimp have been on my brain all week! I wanted to do shrimp tacos for taco tuesday, but the kids wanted "meat" tacos so we did steak. And today, as the ruler of my castle, decided to tell my kids they are eating what I make. I should mention now they ate it all… and seconds. #Winning!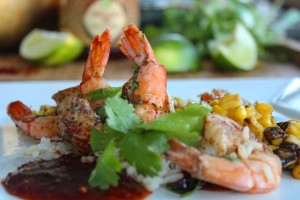 I love to do a citrus flavor and it always ends up with a cumin, chili powder, garlic salt blast on something. You know, because logically those three ingredients totally complement lime. Just something I've picked up with my obsession with these spices.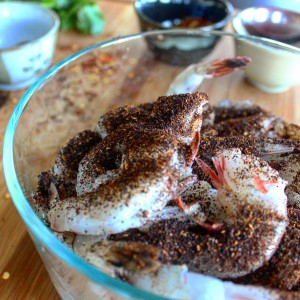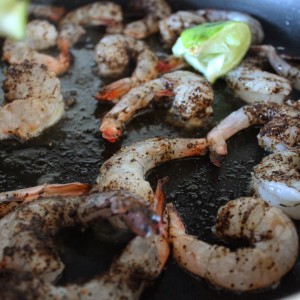 It is easy to overcook the shrimp in this dish because they are coated. Look for the pink and meat to turn white instead of translucent. There is nothing worse than a succulent shrimp dish that lost all of its succulency….Well, you know what I mean.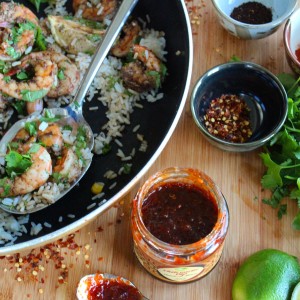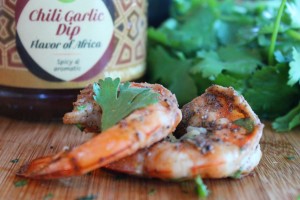 Can we talk about this dip? Chili Garlic Dip from Oil & Vinegar is actually the finest form of a Thai Chili Sauce I have ever had! Try it, Buy it, it is amazing. Last night I made bacon wrapped chicken and we also dressed those with this delicious sauce. The cooking TV show I co-host Between The Eats partners with Oil & Vinegar, check out some other fun products we have used in fabulous dishes!
Here it is…
Cilantro Lime Shrimp with Garlic Chili Sauce
(Feeds4-6)
Ingredients:
2 lbs. unpeeled, raw shrimp
6 cups of your favorite rice, prepared or uncooked
3 ears corn on the cob, cut off the cob
2 tbsp. chili powder
1-1/2 tsp. ground cumin
1 tsp. garlic salt
black pepper
2 limes
1 small bunch cilantro, chopped
3 tbsp. olive oil
1 Jar Chili Garlic Dip, or your favorite spicy dipping sauce
Directions:
Peel shrimp, leaving tails intact.
In a small mixing bowl, blend chili powder, cumin, garlic salt, and pepper together.
Place shrimp in a large bowl and coat with spice mixture.
Begin cooking rice according to package.
Heat olive oil in a large pan.
Add 1/2 shrimp, be sure not to overcrowd or overlap. I did 2 batches.
Squeeze 1/2 lime over shrimp.
Cook 3-4 minutes and flip for 2-3 minutes, or until shrimp are pink and start to curl up.
Remove from heat and add second batch. Squeeze other 1/2 lime. Repeat cook. Place shrimp on a plate.
Meanwhile, add corn to the pan with all of the seasoning drippings and goodness in the bottom of the pan.
Roast until slightly browned and softened. Try one, should have a pop but be tender.
Remove corn from the pan and place into a bowl.
Add rice to pan, top with shrimp, 3/4 chopped cilantro and 1/2 lime juice.
Serve with corn and a scoop of chili garlic dip!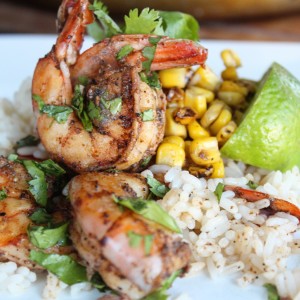 Enjoy!
Ciao!