Summer pasta, even the words seem a bit redundant, can be a light, quick and easy meal filled with flavor.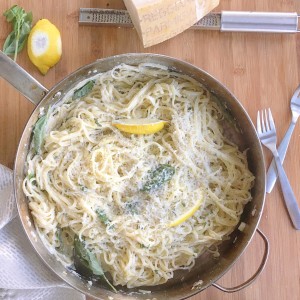 The trick is using only a few, really great ingredients. Buy good ricotta for this dish. A lasagna, or even manicotti can mask a skim or grocery store brand by doctoring it up with Parmesan cheese and herbs. This dish is raw, ricotta is the creaminess, the coating of the noodles, so it better be fabulous!
Lemon pretty much replicates a perfect sunny day. When paired with basil, the results are delicious! Here is the recipe…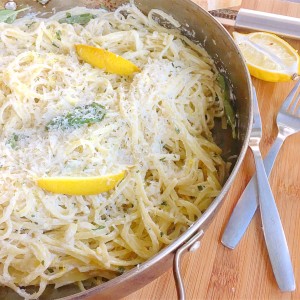 Lemon Basil Ricotta Linguini
Ingredients:
3 tbsp. Olive oil
3 cloves garlic
1 lb. fresh linguini
1/4 cup pasta water (reserved from cooking- or less depending on absorption)
1 small lemon, 3 tbsp. Lemon juice
1/2 cup basil, chopped some whole leaves for garnish
3/4 cup ricotta cheese
Lemon rind for zest
Fresh grated Parmesan
Salt and Cracked black pepper
Directions:
Boil 2 -3 quarts of water salt and add linguini.
Cook until aldente, 7-9 minutes.
Drain and reserve 1/4 cup pasta water m.
Heat oil in a pan, add chopped garlic and soften. Be sure to lower heat so garlic doesn't burn.
Add pasta, lemon juice, ricotta, basil, and 1/2 pasta water to a mixing bowl.
Whisk until incorporated.
Slowly stir into pasta in a circular motion.
If needed, add more pasta water spoon by spoon so there is not too much liquid.
The ricotta slightly melts and grabs the noodles.
Add fresh grated Parmesan cheese, lemon zest, and salt and pepper to taste.
Garnish with leaves, zest and Parmesan cheese.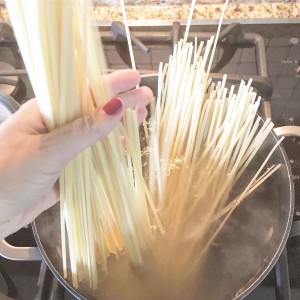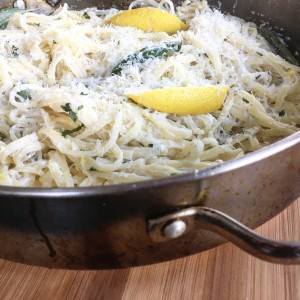 Enjoy!
Ciao!