Kafta, Kofta, Kefta…every translation spells it differently! Let's call it meat on a stick. Ok, really flavorful meat on a stick.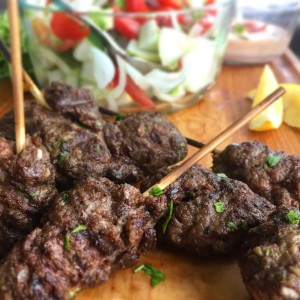 With Lebanese exotic flavors of cumin, cinnamon, and of course the garlic, Kafta has a deep layering and tastes like a full meal. Often served cold for lunch, or hot for lunch or dinner, it is a fun opportunity to try something different that is really quick and easy to make.
My kids are fans because it is on a stick I think. They first started eating "things kids aren't supposed to like" when skewered. Try it, seriously!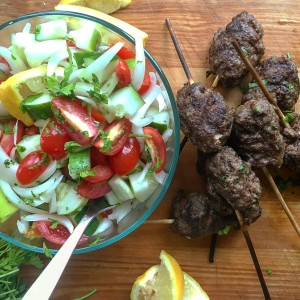 A few tips, I used an egg. (Gasp!) Kafta is traditionally stuck together by using soaked white bread that's rung out and put in the food processor. Yeah, So are traditional meatballs, but sometimes you don't want to clean the thing, right? Feel free!
Soak the sticks! I forgot and a few of mine burned!!
The cucumber salad is amazing and accompanied meat dishes quite often on my table in the summertime.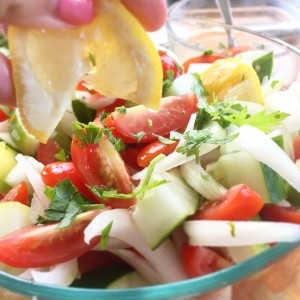 And guys, the sauce…simple and delicious! It's more powerful than a smoothe tahini with the punch of Romesco. I used a delicious jarred Romesco, but you can get crazy and make your own!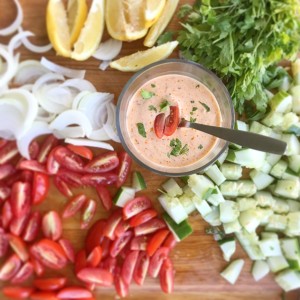 Here are the recipes…
Kafta Kabobs
Ingredients:
1 lb. ground beef
3 garlic cloves, finely chopped
1 small onion, finely chopped
1/4 cup parsley, finely chopped
1 egg
1 tsp. Allspice
1 tsp. Cumin
1/2 tsp. Paprika
1/2 tsp. Cinnamon
Salt/pepper to taste
Skewers
Directions:
Soak skewers in water for at least one hour until ready to mold the
Heat grill to 300 degrees.
With hands, mix beef, garlic, onion, egg, and all of the spices, salt and pepper.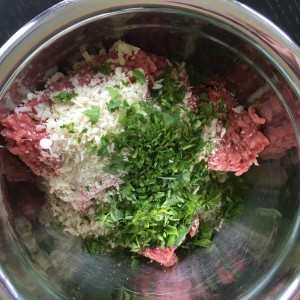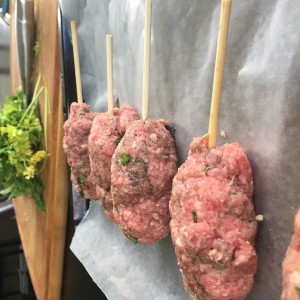 Mold 1/6 of the mixture onto one end of each skewer trying to keep mold to 1 inch thickness.
Grill approximately 4 minutes each side until cooked to desired fineness.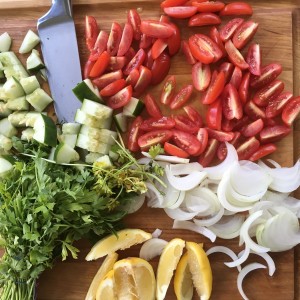 Cucumber Salad
Ingredients:
1 cucumber chopped
1 pint grape tomatoes, halved
1 small red onion or Vidalia onion, sliced
Handful parsley, chopped
1 lemon , squeezed
3 tbsp. Garlic oil
Salt/pepper to taste
Directions:
In a large moxing bowl, toss to coat.
Greek Yogurt Romesco Sauce
1/4 cup plain Greek Yogurt mix with
1/4 cup Romesco
Chopped Parsley flakes and sliced tomato garnish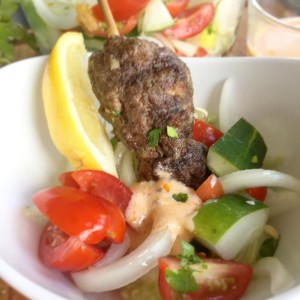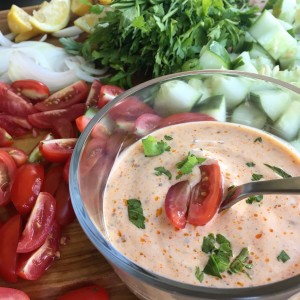 Enjoy!
Ciao!