Is it the crispy bite or the gooey yummy marshmallow we love so much about Rice Krispies treats? Loved by children and super easy to make, Rice Krispies treats can be made fun and festive with a drop of food coloring or an addition of colored sprinkles!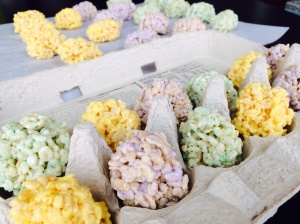 To make the colorful treats, divide the butter/marshmallow mixture into thirds and added yellow, green, and purple (red and blue) coloring. Then add the cereal, mix well, and mold into a nonstick coated plastic egg! These can be a sticky mess so be sure to also grease your hands!
Enjoy making these treats everyone will love!
Rice Krispies Treat Easter Eggs
(Makes approx. 30 1-1/2 inch Eggs)
Ingedients:
6 cups Rice Krispies cereal
3 tbsp. butter
1 10 oz. bag mini marshmallows
food coloring
Directions:
Melt butter in a saucepan over low to medium heat so it doesn't burn.
Add marshmallows and stir until melted and the ingredients are incorporated.
Remove from heat and separate into thirds- three mixing bowls.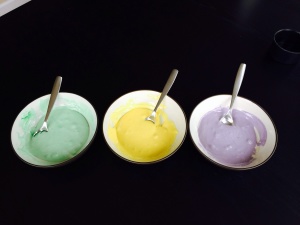 Add food coloring to reach desired colors.
**It is important to work quickly at this point. Mix in the cereal before the marshmallow starts to harden.
Add 2 cups of cereal to each bowl. Stir with a wooden spoon until cereal is coated.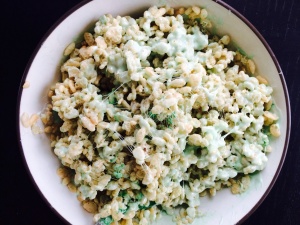 <!
Grease hands and a plastic Easter egg. Press the cereal into the egg. After a few seconds, remove the cereal egg and place it on a piece of waxed paper.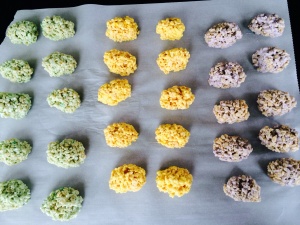 Serve in an egg carton or in the plastic eggs!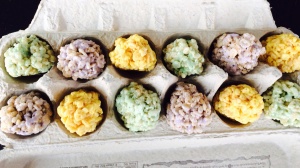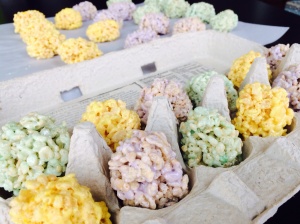 Enjoy!
Ciao!