One day I had a meeting at a little Italian restaurant in Crafton. I asked, as I typically do, "What is your most popular dish?" The server responded, "Well, the beans and greens, the homemade gnocchi, the pizza, everything is great!" Of course, the table ordered all of it to share.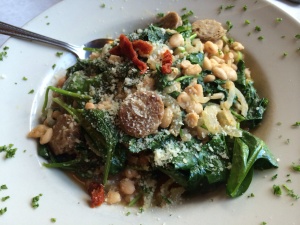 When the dishes started arriving I couldn't believe it. The beans and greens were perfect! Big chunks of sausage with a little kick. The homemade gnocchi- fork marks and all-were little pillows of heaven coated with red sauce and clinging crumbs of fresh grated Parmesan cheese.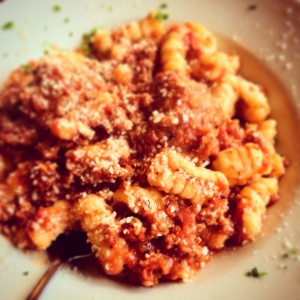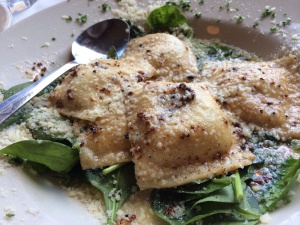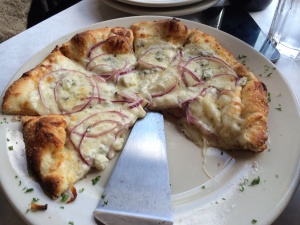 "Everything was fantastic," I told Joe Caliguire, Sarafino's owner, a humble man who behind his smile knew I would be totally blown away by his restaurant's "lunch."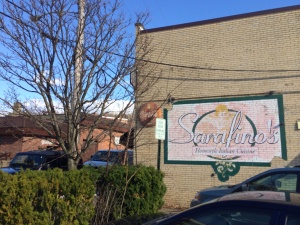 Caliguire recently traveled to Luca, Italy to gain more culinary knowledge and to cook with a family in their restaurant. When he got back he hosted a special tasting party for family and friends. I was lucky to be included!
Family and friends meant a traditional Sunday Supper set-up…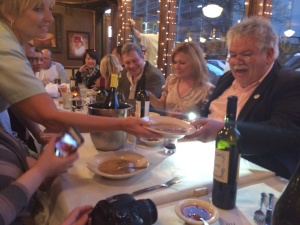 …long tables with close place settings, food served family style, and one hundred loud, passionate conversations happening all at once! I had the pleasure of sitting with some of my faves! Pennies Pints Pittsburgh, TheFoodtastersPittsburgh, yajagoff, everybody loves you, and the great Rick Seback!
A special day for the Caliguire family!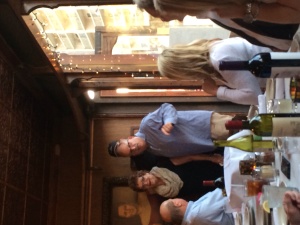 Brothers?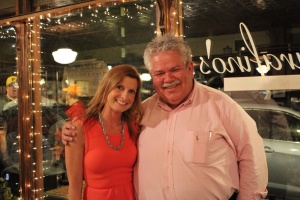 Sarafino's is BYOB so we had plenty of wine and beer to accompany our 10 course meal. Yes, 10!
Here were a few of my favorites!
Grilled Artichokes With Lemon!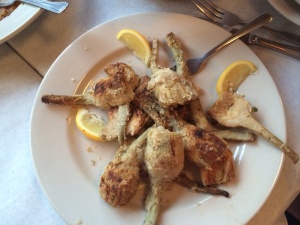 Stewed Squid Bruschetta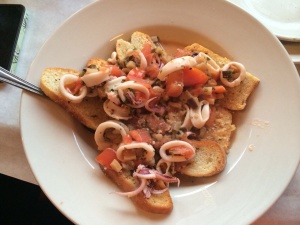 Homemade Pasta With Braised Rabbit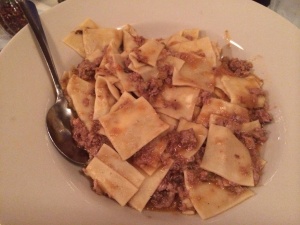 Not to mention…Soup, Pizzas, Chicken liver páte over polenta squares, penne with mint prosciutto and Parmesan, stewed wild boar over polenta, and roasted pork with rosemary potatoes!
Poached Fruit with IceCream and Biscotti! It's too bad we had nothing to drink ; )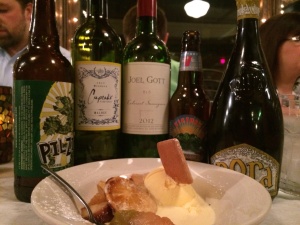 Visit Sarafino's! One of Pittsburgh's best kept secrets! Take a bottle of wine and tell Joe I sent you!
Enjoy!
Ciao!
Sarafino's
40 East Crafton Ave.
Crafton, PA
15203
412-922-8911