We are totally sick of pumpkin pie! Ahhh! The pumpkin was so yummy and refreshing at first. Smothered with creamy cool whip, it was pretty much breakfast, lunch dessert, and dinner dessert while it lasted. Now we are so over it! For dessert tonight I changed it up and made a cherry pie edged in pistachios and chocolate chips.  A little edgy and a little holiday chic, this special little bundle of sweetness is sure to hit the spot! Here is the recipe…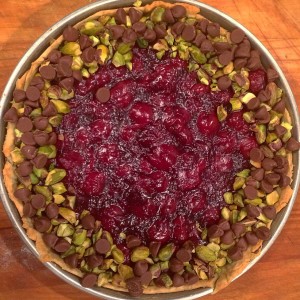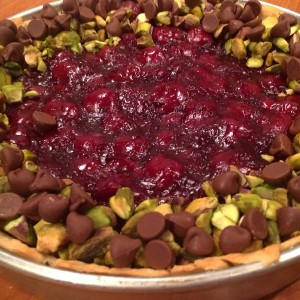 Chocolate Pistachio Cherry Pie
Ingredients:
1- 9 inch pie crust- your favorite mine is Ina Garten's yummy crust
2 cups jarred dark cherries
3 tbsp. sugar
Approx. 1/4 cup corn starch
1/4 shelled pistachios, roughly chopped
1/4 cup chocolate chips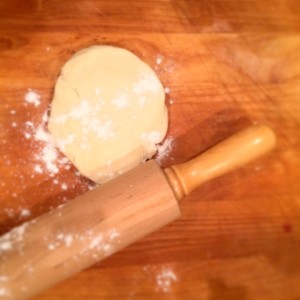 Directions:
Preheat oven 375 degrees.
Grease and flour pie plate or shallow cake pan.
Roll out crust into a 9 circle.
Fit into the pan and push to form.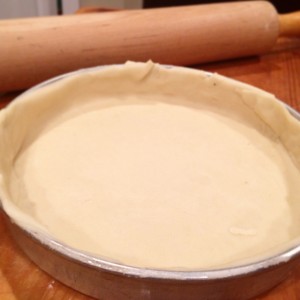 Cover with aluminum foil.
Fill the top of foil with dry beans.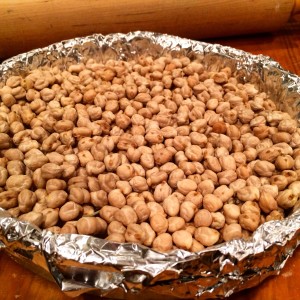 Bake 20 minutes or until crust is set and begins to cook.
Meanwhile, cook cherries until boiling.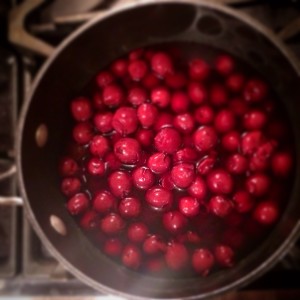 Add sugar to taste.
Add cornstarch little by little by mixing with warm water and adding to cherries.
Remove foil and fill pie crust with cherry mixture.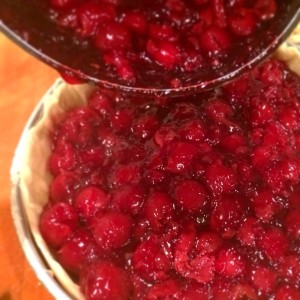 Bake until crust is golden brown.
Let cool.
Top with pistachios and chocolate chips around the edge.
Cut and serve.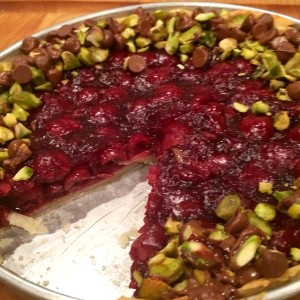 Enjoy!
Ciao!