My holiday baking typically includes tons of nuts! I am not sure if it's because I grew up with old school Italian recipes where heaps of nuts and/or raisins were added to every single simple cookie or because I loooove the taste and texture. Not a huge raisin fan, I tend to add dried cranberries or cherries instead.
These double chocolate chunk cookies are a holiday favorite cookie- a must try! I doctored them up with some dried cherries and walnuts! Get creative and add in your faves!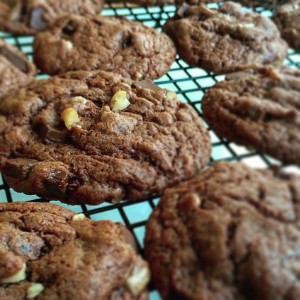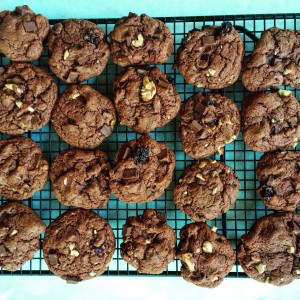 Double Chocolate Cherry Chunk Cookies
(Makes 3 dozen 2 inch cookies)
Ingredients:
2 cups flour
1 tsp. baking soda
1/2 cup cocoa
1 cup butter, softened
1-1/2 tsp. vanilla extract
1 cup sugar
1 cup light brown sugar
2 eggs
1 11.5 oz package chocolate chunks
3/4 cup dried cherries, chopped (optional)
3/4 cup walnuts, chopped (optional)
Directions:
Preheat oven to 350 degrees.
In a large mixing bowl combine flour, baking soda, and cocoa.
Cream butter, sugar, brown sugar, and vanilla until light and fluffy.
Add eggs one at a time, beating well.
Beat in dry mixture a little at a time until well mixed.
Stir in chocolate chunks, chopped dried cherries, and chopped walnuts.
Drop by tsp. onto a parchment lined cookie sheet. 2 inches apart.
Bake 9-11 minutes until set.
Remove and let cool on sheet for 3 minutes then move to a wire rack to complete.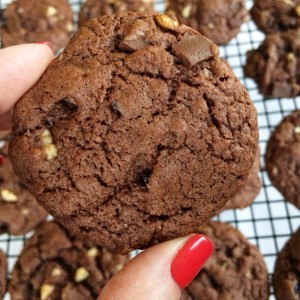 Enjoy!
Ciao!