We all have our own favorite comforting chicken noodle soup recipe. When we crave to feel warm and loved inside, nothing else will really do!  When the air turns chilly and the house is cooler inside than out, it has to be a classic chicken noodle soup!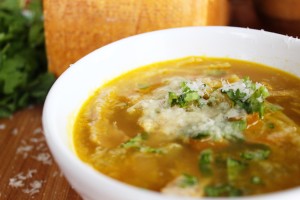 My grandma's recipe is the best, with homemade drop noodles and mounds of fresh grated Parmigiano Reggiano cheese!  I remember the smell, the taste, how hot it would be in the kitchen from the stove while eating the hot soup. (My pappap's loud slurping.) ; ) One thing I still do is eat a few bites and and cover the top in cheese again before it melts back into the bowl.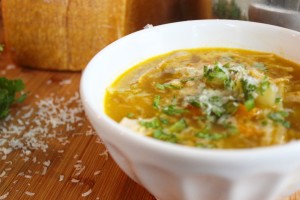 Is it necessary to make your own chicken broth?  No way!  But in my opinion, if you are going to cook the soup for hours anyway…why not?!  So when you roast the chicken anytime, always keep the bones and drippings.  I freeze them in a ziploc bag.  If you are starting from scratch, you will be roasting the chicken.  After it cools you pull the chicken off of the bones, gather the drippings from the roasting pan, garlic, the bones, the dark meat, bay leaf, and water to make a stock.  This is your soup! Cook the stock for 2 hours, strain and cook the broth with the veggies for the last hour.  If you roast the veggies in the oven at the same time, you get even more flavor without having them just boil.
Shortcuts that totally work; buy a rotisserie chicken and pull the chicken off of the bones, use store bought chicken broth, throw in 1/4 lb. of your favorite dry, fresh noodles.  But when the kids are sick, or when you will be home all day on a rainy Saturday, please try the homemade stock.  It is seriously a game changer.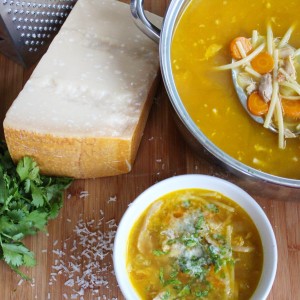 Homemade Chicken Noodle Soup
(Feeds 4 + a bowl or 2 leftover)
Ingredients:
1-1/2 tbsp. butter
4 carrots, chopped
3 celery stalks, chopped
1 medium onion, diced
3 cloves of garlic, finely chopped
1 roasted chicken, meat off the bone shredded and chopped
2 quarts of chicken stock (homemade or bought)
Salt (if needed) / Pepper to taste
1/4 lb. Linguini noodles, cut into 3 2-1/2 inch noodles
Parmigiano Reggiano, fresh grated
Directions:
Cook the stock….
OR
Melt butter with garlic, and onion to a large pot and cook until the onions are translucent.
Add carrots, celery, and chicken and simmer for 30 minutes to 1 hour.
Add pepper (and salt) to taste.
Add noodles 10-15 minutes before you are ready to eat.
Spoon into bowls and top with fresh grated Parmigiano Reggiano cheese!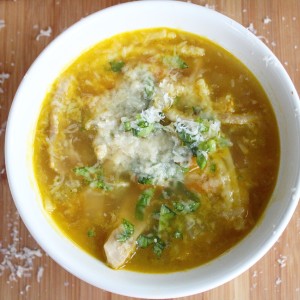 Enjoy!
Ciao!
Enjoy Parmigiano Reggiano, the only Parmesan, made in the PDO zone of Parma, Italy. I am thrilled to be US Ambassador for the brand!