Soup, kind of. This dish is more like clams in broth with some veg. The best part is sopping up the broth with some crusty bread! Clams are my comfort food, linguini clams for Sunday Supper, or just a simple broth warms my belly on a cold winter evening. For some reason the leftovers are even better the next day for lunch!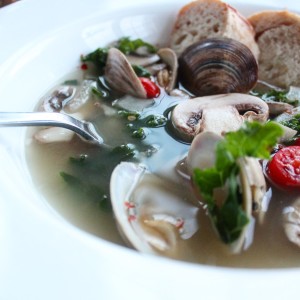 The base is chicken stock with flavors of garlic, onion, and white wine. The red pepper flakes add the spice!
Enjoy one my favorite recipes ever…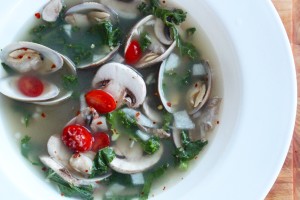 Zuppa di Vongole (Clams in Broth)
Ingredients:
2 tbsp. olive oil
3 cloves of garlic, finely chopped
1 small onion, finely chopped
1 12 oz. package clam meat
1 cup white wine, I used chardonnay
10 cups chicken stock, homemade or store bought
1 cup Sliced button Mushrooms
2 dozen bottle next clams
1 cup cannellini beans
1/2 cup sliced grape, cherry tomatoes, sliced
1 cup kale
red pepper flakes to taste
salt/pepper to taste
Fresh grated Parmigiano Reggiano
Crusty bread
Directions:
Heat olive oil in a soup pot.
Add garlic, onion, white wine, and clam meat, salt and pepper, and cook until onions are softened.
Add stock, mushrooms, beans, and clams.
Cook until clams open and all are heated through.
Remove from heat and add kale, sliced tomatoes, red pepper flakes, salt and pepper.
Top with fresh grated Parmigiano Reggiano and serve with crusty bread.
Enjoy!
Ciao!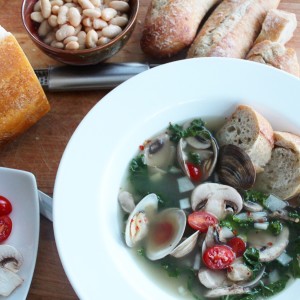 Parmesan Princess is the proud US Ambassador for Parmigiano Reggiano in Parma, Italy. The real parmesan cheese, make sure its Parmigiano Reggiano.