My family style sauce is a San Marzano base with basil and lots of garlic. I often add ox tail, pork bones, meatballs, and/or sausage to infuse the sauce with flavor. Winter comfort or a perfect Sunday supper, a hearty pasta is probably my kids' favorite meal!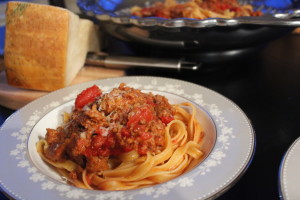 A traditional Bolognese does not contain tomato products, but I love the flavors of tomato with the chunky, thick sauce. Here is my recipe…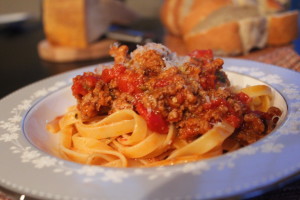 Linguini Bolognese
Ingredients:
2 tbsp. Olive oil
1 small onion, finely chopped
3 cloves garlic, finely chopped
1/2 cup carrots , finely chopped (optional)
1/2 cup celery, finely chopped (optional)
1/4 tsp. Dried oregano
1/4 tsp. Dried thyme
2 tbsp. Tomato paste
3/4 cup white wine
2 cans whole San Marzano tomatoes
I cup Parmigiano Reggiano + topping
1-1 1/2 lb. linguini
Salt to taste
Salt/pepper
1 lb. ground beef
1 lb. spicy Italian sausage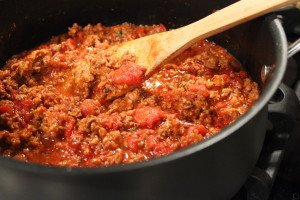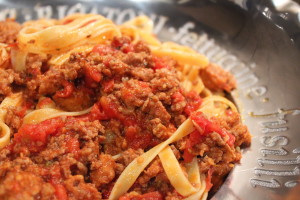 Directions:
In a large , deep pan cook onions, garlic, carrots, and celery until softened.
Brown meat with herbs
Add meat, tomato products, and wine to the pan.
Cook pasta until al dente, drain, and top with Bolognese.
Finish with fresh grated Parmigiano Reggiano.
Enjoy!
Ciao!
I am proud to be the US Ambassador for Parmigiano Reggiano -Parma, Italy. The only Parmesan!