A quaint, small restaurant nestled in a city block; long open doors allowing a soft breeze; exposed brick for character; white tablecloths for class; a fabulous wine list; Italian staples that never disappoint. This is how I would describe my trendy, hot, new Lawrenceville restaurant. They beat me to it! It's called Matteo's.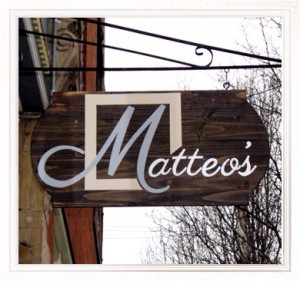 Open less than two years and already earning the titles 3rd best chef in the city by City Paper and "best restaurant" for Pittsburgh Restaurant Week, Matteo's front man, Matt Cavanaugh, is showing no signs of slowing down.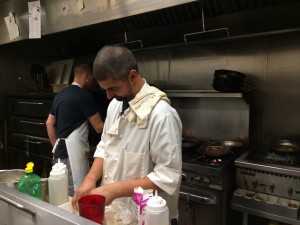 After working for over 15 years in the restaurant business, Matt worked his way up the restaurant ladder from busboy to kitchen manager at legendary Pittsburgh steakhouse Red Bull Inn. Matt also gained experience at Dominica's and Serafino's. Matt explains, "I worked hard and learned everything about the restaurant business. I worked every position. I knew I wanted to open my own restaurant."
A humble 34-year-old, Matt took the jump with the tools he learned and the ones that can't be taught- a strong determination and a refreshing view of life.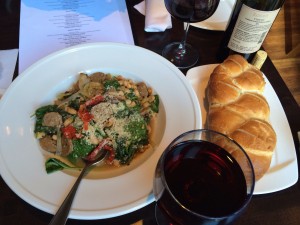 Matteo's menu is authentic and traditional- and then totally not. Matt combines his steakhouse background by serving steak and seafood alongside an array of Italian favorites. If mussels served in a horseradish cream sauce wouldn't be your first pick (Are you crazy?), Perhaps the greens and beans with sliced spicy sausage would be your pick.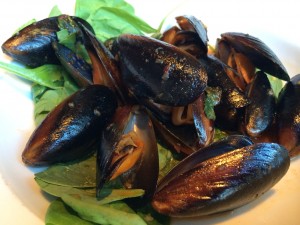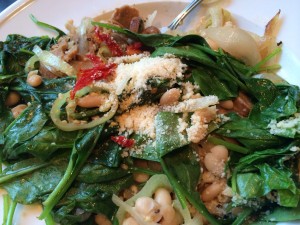 The wide range of absolutely irresistible menu items makes ordering impossible and returning imperative. My first visit was during Pittsburgh Restaurant Week, where area restaurants draw in new customers by offering a course menu at a discounted price. Matt says his restaurant is "three times busier" during restaurant week. Shhhh, don't tell, but I actually had a reservation at another restaurant week restaurant the following night and cancelled so I could eat my Matteo's porcini cappelletti leftovers. Yes, it is that good!
I was blessed to celebrate my birthday at Matteo's last weekend with a large group of friends. I snuck back to the kitchen to learn some tip and tricks and to surprise you with a fabulous recipe!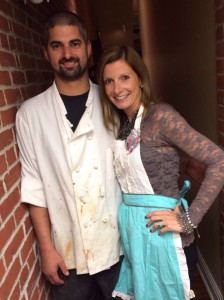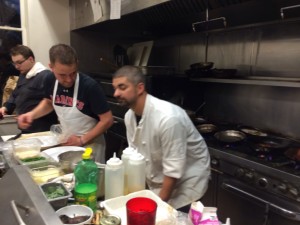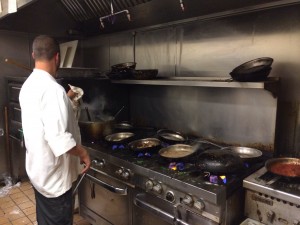 This group setting was the perfect opportunity to sample everyone's food! Hey, I was the birthday girl! I got to taste the black and blue ribeye, the tuna steak with a Jack Daniels glaze, the veal diavola, the mushroom ravioli, and many more. I ordered my favorite, the porcini cappelletti.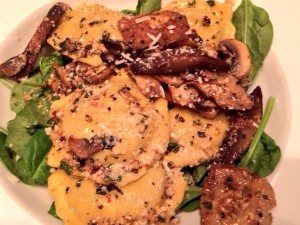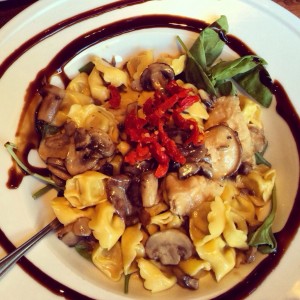 Everything was cooked to perfection and everyone loved the food, the location, the vibe.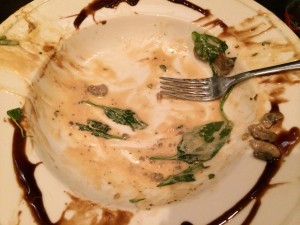 Since the restaurant is closed on Sundays and Mondays, these are "the perfect days for private parties," says Matt. Funny, you would think he wants a day off!
The desserts are beautiful, fresh, and delicious! Matt's wife Andrea whips up a perfect tiramisu!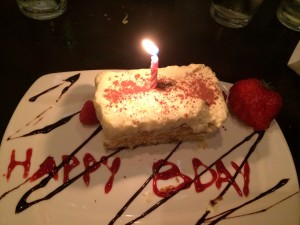 Here is the recipe for you from Matteo's kitchen:
Surprise!!!! It is the amazing
Porcini Cappelletti Sauce! Can you believe it is this simple?
Porcini Cappelletti Sauce
Matteo's Pittsburgh
1/2 parts heavy cream /Marsala wine
Reduce to thicken
Salt and pepper
Throw in your favorite mushrooms sliced raw- shiitake, field, portobello
Serve over your favorite cooked pasta!
Enjoy!
Thank you Matt Cavanaugh and the Matteo's staff for your hospitality!
Visit Matteo's before it gets too cool to keep the doors open and sample the fall food and drink menus! Tell them I sent you!
Next time, I'm trying the linguini clams!
Ciao!
Matteo's
3615 Butler Street
Lawrenceville, PA
412-586-7722
Hours: Tuesday-Saturday 11am-11pm
www.matteospgh.com