Today's post comes from Erin of The Almond Eater blog, and is part of a special day of shenanigans from other Pittsburgh Bloggers.  You can see my post over on Yum Yum Pgh, where I share my homemade, easy, and delicious Pad Thai recipe!
Here is Erin's Post!
Hi Parmesan Princess readers! Today I want to share my new favorite overnight oats recipe: Oatmeal Raisin Cookie Overnight Oats! After all, who doesn't love a good oatmeal raisin cookie? Also, anyone who says cookies aren't for breakfast is wrong.
I love overnight oats for 45 reasons, but the main reason is because they're ready to go when I wake up in the morning, meaning no prep work is involved! This is great, especially mornings when I literally don't have time to make breakfast—they're the perfect grab-n-go option.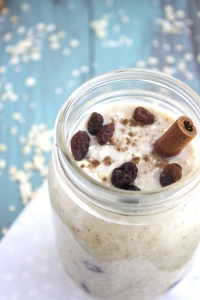 I tried overnight oats for the first time two years ago and it was love at first bite. I made them every morning for a very long time, until my body/taste buds were like STOP IT. Now, I try to eat a variety of breakfasts, but still include oats in the line up at least once a week. It's all about balance

If you've never had overnight oats before, they're just like oatmeal only cold and the texture differs depending on how much milk you include. I personally don't enjoy soggy/mushy oats (ew), so I don't use a ton of milk in mine. HOWEVER, if that's your thing, go for it—the flavor will be just as good.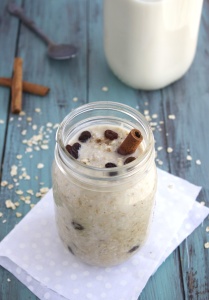 These particular oats are only SEVEN ingredients, and if I'm being honest, you could probably get away with only using five if you don't have all of the ingredients and don't feel like running to the store (this happens to me every other day). I totally get it. If you doooo want to/have to leave out any ingredients, I'd suggest the nutmeg and/or vanilla. I don't recommend it, but if you're completely out, those things add to the flavor but they aren't the core of the flavor…. if that makes any sense.
Whatever you do, you're going to want to whip up these oats TONIGHT so you'll have something to look forward to in the morning. And when I say "something" I mean and oatmeal raisin cookie in the form of oats. NOM.
Oatmeal Raisin Cookie Overnight Oats!
Ingredients:
2 cups oats
2 cups almond milk
3 tbsp maple syrup
1 tsp vanilla
1/2 cup raisins
1/4 tsp nutmeg
1 cinnamon stick OR 1/2 tsp ground cinnamon
Directions:
Combine ingredients in a bowl/mason jar and let sit for at least 6 hours. Typically, it's easiest to prepare these the night before and let them sit in the refrigerator overnight (hence the name 'overnight oats'.) Enjoy!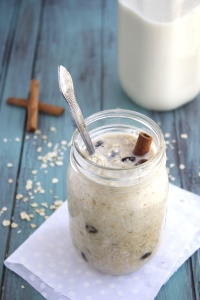 Thanks for reading—for more recipes and things that I find amusing, like The Almond Eater on Facebook or follow me in Instagram  Xoxo
Thank you, Erin! We can't wait to try these oatmeal raisin overnight oats!
Ciao!