Apple Butter is probably the most underrated…condiment? Spread? Jam? Always refreshingly delicious, the sweet spread pairs well with flavors of the season-spiced- which is the ginger, nutmeg, cinnamon, cloves combo. Add some sweet butter toffee pecans and you've create quite possible the best dessert ever!
Enjoy these delicious cupcakes …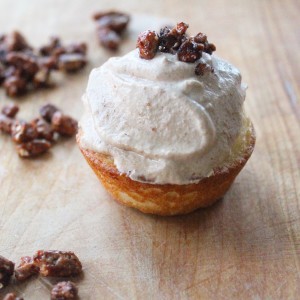 Ingredients:
1 white cake mix- or your favorite vanilla cake base mix (follow instructions, mixed) plus:
1 tsp. cinnamon
1/2 tsp. nutmeg
1/4 tsp. ground ginger
1/4 tsp. ground cloves
2 tbsp butter toffee pecans, crushed
Apple Butter Frosting
2 cups powdered sugar + more if needed
1/2 cup butter, softened
1/4 cup apple butter
1 tsp. vanilla extract
Butter Toffee Pecan for topping
Directions:
Preheat oven to 325 degrees.
Prepare cake mix according to package and add spices to mixture.
Bake 18-22 minutes until a toothpick is clean when inserted into the middle of the cupcake.
Frosting:
In mixing bowl beat together butter and sugar until smooth.
Add Apple Butter and vanilla and incorporate.
Frost cool cupcakes.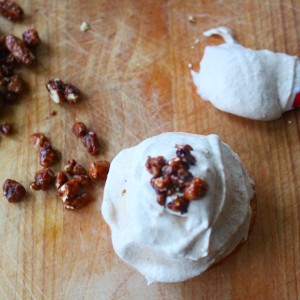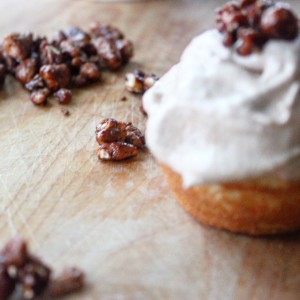 Enjoy!
Ciao!