Quick and easy dinners are always the goal with kids and a busy schedule. The challenge is creating a healthy meal including fresh ingredients, vegetables, and a ton of flavor, instead of resorting to processed pre-made frozen food choices. Flatbread is an excellent choice because it is a blank canvas.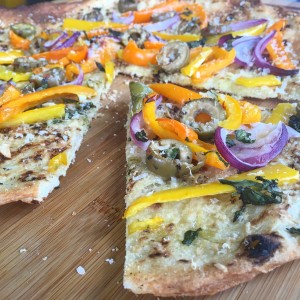 Any cuisine can be undressed and layered on a flatbread. For example, BBQ pulled pork makes a delicious flatbread. By layering the flatbread with pulled pork, red onion, bbq sauce, and sautéed greens, the sandwhich is transformed!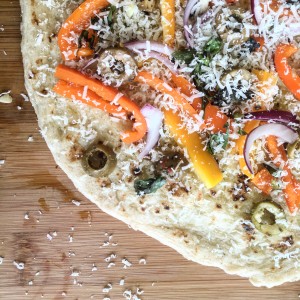 I made a Mediterranean flatbread the other day with bell peppers, red onions, herbs, and a garlic olive oil base. Covered in Parmesan cheese, this flatbread is light and full of flavor. It would be delicious with mushrooms, tomatoes, or any of your favorite vegetables.
I had an abundance of bell peppers to use, so they were my main ingredient! Here is the recipe…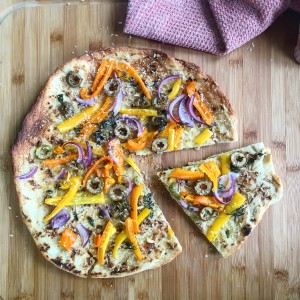 Mediterranean Flatbread
Ingredients:
1 prepared wood grilled pizza shell, thin flatbread shell
3 tbsp. olive oil
3 cloves garlic, finely chopped
salt/pepper
2 tbsp. chopped basil + some to sprinkle after cooked
2 tbsp. rosemary
2 tbsp. thyme
1 small orange bell pepper, chopped
1 small yellow bell pepper, chopped
1 small red onion, sliced thin
1/2 cup garlic spiced Italian olives, or your favorite olives, sliced
Fresh grated Parmesan Reggiano cheese
chopped parsley for garnish
Directions:
Mix olive oil and garlic in a small bowl.
Brush shell with olive oil, garlic mixture.
Sprinkle with basil, rosemary, and thyme.
Top with pepper, red onion, and olives.
Bake 425 degrees on a preheated pizza stone 8-12 minutes until crust is golden and cheese melts.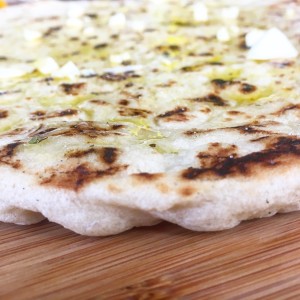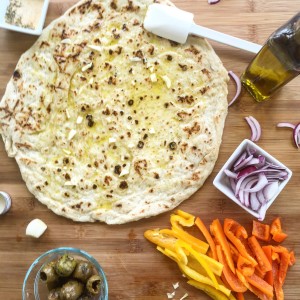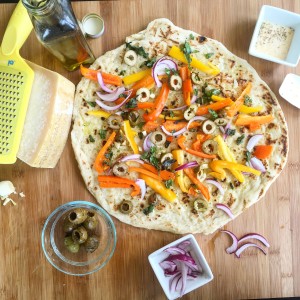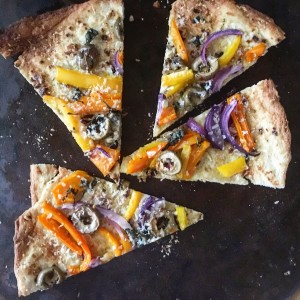 Enjoy!
Ciao!