Potato pillows that melt in your mouth, homemade Italian deliciousness…yep, gnocchi.  Instead of a traditional tomato sauce, I love to try new flavor combinations with gnocchi because they are a blank slate!  There are plenty of delicious fresh gnocchi, or frozen fresh options if you don't make your own. I like to freeze my gnocchi, ravioli, and cavatelli, for a rainy day.  It is my opinion that these types of homemade pasta cook better from frozen.  This meal took under 20 minutes!  Win!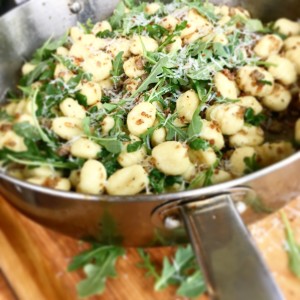 I received the most perfect pork sausage from the meat CSA at 
Big Horn Ranch
 and tossed it with the gnocchi, spicy oregano, red pepper flakes, and the crunch bite of arugula. Dressed with olive oil, a little goes a long way, coating each bite.  The sausage had very little fat, but sorry fat haters, fat is flavor. A reasonable amount is fine! The kids loooooved this recipe and had seconds and thirds.  I happened to have arugula handy, feel free to sub kale or spinach!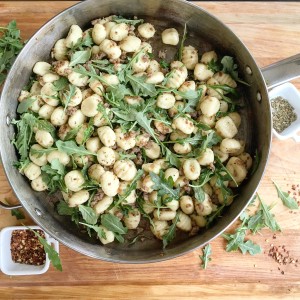 Sausage Gnocchi With Arugula
Ingredients:
1 lb. pork sausage, Italian sausage out of casing
1 lb. potato gnocchi, homemade or frozen
2 tbsp. garlic olive oil
4 cloves garlic, finely chopped
salt/pepper to taste
2 tbsp. crushed red pepper
1 tbsp. oregano
fresh gated parmesan cheese
Directions:
Cook sausage and garlic in a large pan while chopping and crumbling with a spoon, until browned.
Drain fat. (I was lucky and had no more than 1/2 tsp. of fat so I left it in for flavor.
Meanwhile, boil a pot of water add salt and cook gnocchi until they float.
Drain, save 2 tbsp. pasta water.
Add olive oil, sausage, and arugula to the large pan and toss to coat.
Salt/pepper to taste.
Sprinkle with oregano and crushed red pepper.
Top with fresh grated parmesan cheese.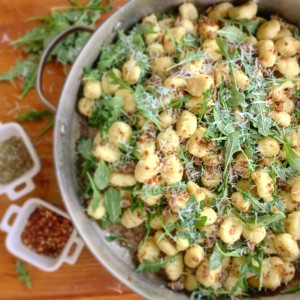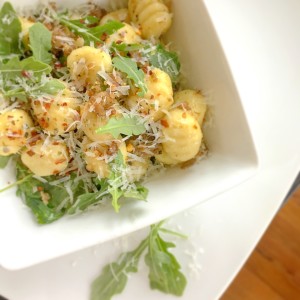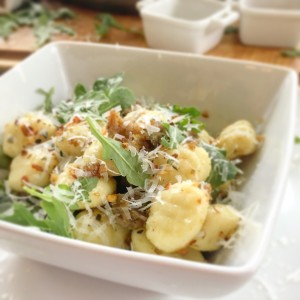 Enjoy!
Ciao!