If you close your eyes, these cookies taste like the best peanut butter cookies ever…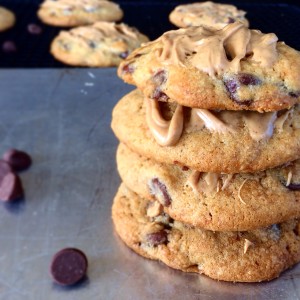 But they are chocolate chip?? Yes, the almond cream and peanut butter frosting do all of the work! In the past, I have tried to make homemade almond cream to use as a spread on biscuits and muffins like this one Almond Cream by Martha Stewart, but this time I used the Sicilian Almond Cream from the Italian World at Oil & Vinegar . Save yourself some time because the homemade version will never top the Sicilian version ; ) This frosting is a super sweet! Peanut butter and chocolate are my sweet tooth's favorites, but the almond cream adds a subtle sophistication I could totally get used to.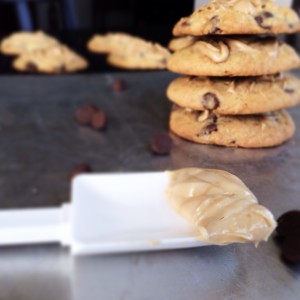 One of our new faves for sure. Here is the recipe…
Peanut Butter & Almond Cream Chocolate Chip Cookies
(makes 3 dozen 2 inch cookies)
Ingredients:
2 cups flour
1 tsp. baking soda
pinch of salt
1 cup unsalted butter
1/2 cup sugar
1/2 cup light brown sugar
1 tsp. vanilla extract
2 eggs
2 cups chocolate chips
1/2 cup finely chopped almonds
For Frosting:
4 tbsp. almond cream
2 tbsp. powdered sugar
2 tbsp. peanut butter
1 tbsp.+ almond milk until desired consistency
Directions:
Preheat oven to 350 degrees.
Using a mixer, cream butter and sugar.
Add eggs, baking soda, salt, and vanilla and mix on low until incorporated.
Slowly add in flour until dough forms.
Mix in chocolate chips and almonds with a wooden spoon. Mix well so each scoop contains chips and almonds.
Drop by teaspoonfuls, 2 inches apart, onto a parchment lined cookie sheet.
Bake 9-12 minutes until golden.
Let cookies cool and frost. I used a spatula and a knife to create a striped pattern!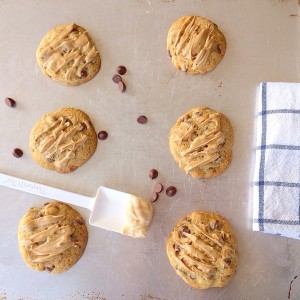 Enjoy!
Ciao!