This summer salad is packed with proteins, good fats, and so super healthy! But that's not the point. It is delicious. My mayo haters will be happy because this Mediterranean tuna salad is made with an olive oil coating instead of mayo!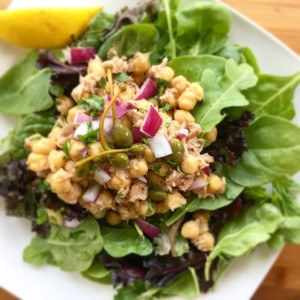 I love adding garbanzo beans because it bulks up the salad, fills you up and adds protein at the same time.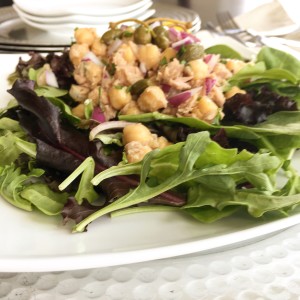 Caperberries are brand new to us. Chef David and I used them on a recent Between The Eats Tapas and Pinchos episode, and my family fell in love with them!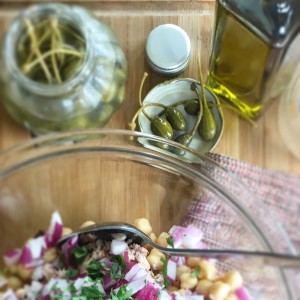 The fruit, berries of the caper, are like olives but smoother. I can't wait to try them in a martini!!
Here is the recipe…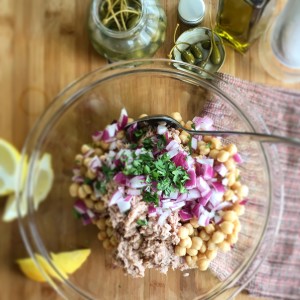 Mediterranean Tuna Salad
Ingredients:
2 cans, chunk light tuna in water, drained.
2 cans garbanzo beans, chickpeas
1/2 small red onion, chopped
2- 3 tbsp. caperberries
2-3 tbsp. sliced olives
1/4 cup olive oil
lemon juice, 2 lemons
salt/peper
parsley, chopped for garnish
Baby spring mix, plating
Directions:
Mix all ingredients in a mixing bowl, except for parsley and lettuce.
Chill 2 hours.
Plate tuna salad on a bed of baby spring mix.
Top with extra caper berries, and chopped parsley.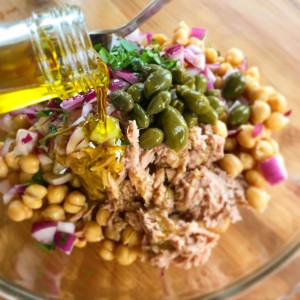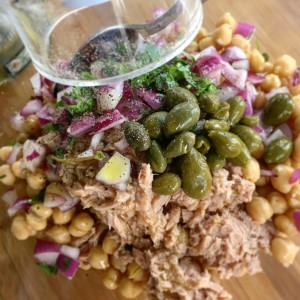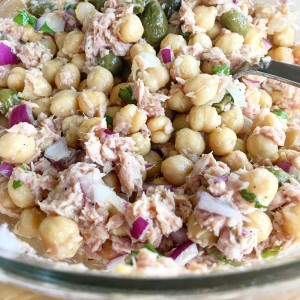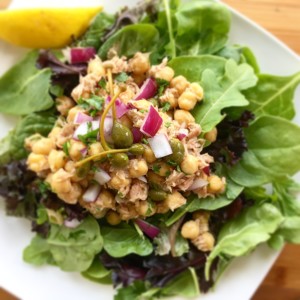 Enjoy!
Ciao!