It is hard to miss the small crowd gathering on the sidewalk as the oysters are being shucked at 2106 Penn Ave in the Strip District. Open garage doors, a long fully stocked bar, undersea cartoons painted on the walls, and warm inviting smiles make Luke Wholey's restaurant almost impossible to walk by without a little taste.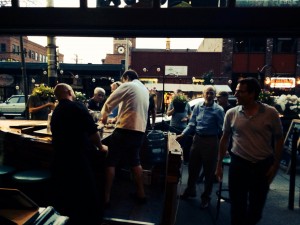 An avid adventurer and fisherman, Luke Wholey's dreams exceeded sales and prep work at the family's Strip District grocery store, Wholey's. After working on a commercial salmon fishing boat in Alaska, Luke found himself behind a large grill in front of the family grocery store grilling fresh fish for Pittsburgh. As his skills as a chef outgrew the outdoor grill, Luke leased a great spot and Luke Wholey's Alaskan Grille was born.
http://lukewholey.com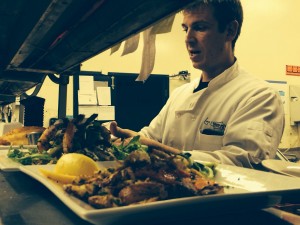 After a short meeting with Luke, I knew his restaurant would be the perfect fish week finale! He catches and prepares the freshest seafood in very unique ways. Wild Bill from The Deadliest Catch has frequented the restaurant this summer! The best part is that Luke loves explaining what you are eating, where is comes from, and why he prepares it the way he does. Let's face it, when it comes to fish, I need solid explanations from an expert

Luke chose one of his favorites, a yellowtail collar appetizer as the first bite. I never would have ordered this on a menu myself!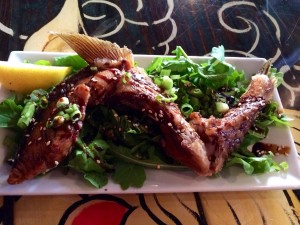 My party ordered the Seared Ahi Tuna, the Thai Chili Catfish Bites, and the Lobster Bisque French Fries to start!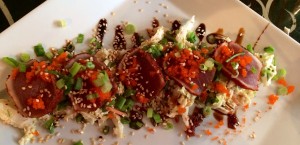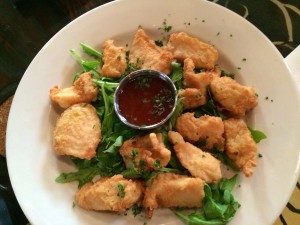 The entrees we shared were the Shrimp Volcano, the Crab Stuffed Sockeye Salmon, and the always comfortable Fish 'N Chips with added fried shrimp and scallops!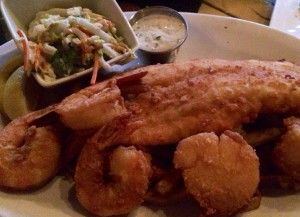 The salmon dish was a beautiful bright color. Luke explained that the bright red flesh color is indicative of the sockeye salmon variety. The adult spawner sockeyes turn a bright red color when migrating.
The Shrimp Volcano as well as the lobster bisque french fries featured the reataurant's lobster bisque. Delicious, dark, and dippable, the soup did not disappoint!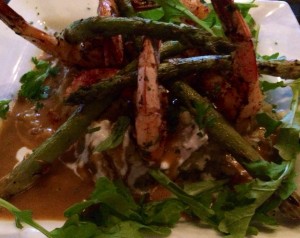 For dessert, Luke Wholey's Alaskan Grille serves A.Ward's cheesecakes! A favorite of one of Pittsburgh's favorites, Christina Aguilera! I was lucky enough to have one of A.Wards limoncello cheesecakes for my birthday this year! Also my favorite!
Visit Luke Wholey's Wild Alaskan Grille! Prepare to learn something about fish and be wowed by the food! Enjoy!
Ciao!
Luke Wholey's Wild Alaskan Grille
2106 Penn Ave. in the Strip
http://lukewholey.com