My kids can talk me into anything. You know, when breakfast for dinner ends up being a sweets, dessert menu. We start with ham and egg sandwiches and it turns into chocolate something with sugar syrup and ice cream on top!!
I did make my kids wait until after their "dinner" to eat the ice cream. This actually made me feel better about the whole thing. I should mention that my kids eat almost everything from kale to salmon to liver and onions, so a special treat every once in a while is a great thing.
Smiles, giggles and sweet treats are what life is all about! Pick a day and surprise them = ) Here is the recipe…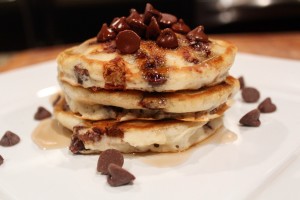 Chocolate Chip Pancakes with Honey Cinnamon Syrup
Ingredients:
Pancakes:
2 eggs
1 1/4 cup milk
1/4 cup canola oil
1/2 cup chocolate chips + some for topping
2 cups flour
1/4 cup sugar
2 tbsp. baking powder
pinch of salt
Honey Cinnamon Syrup:
1/2 cup butter
3/4 cup honey
1-1/2 tsp. cinnamon
1/2 tsp. cloves
1/2 tsp. ginger
Directions:
Mix the pancake batter by first combining wet ingredients: eggs, milk, and oil.
In a large mixing bowl, add flour, sugar, and salt.
Add the wet mixture to the dry mixture until incorporated.
Fold in the chocolate chips.
Pour 1/4 cup measuring cup of the batter onto a hot pan until the batter bubbles.
Gently, flip the pancake and cook until golden brown.
Repeat this process , makes approximately 10 pancakes.
For the syrup:
Melt butter in a small saucepan.
Add honey and spices and cook until cohesive syrup forms.
Top pancakes with syrup, a handful of chocolate chips, and ice cream if you want!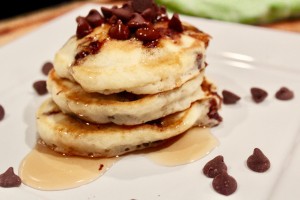 Enjoy!
Ciao!